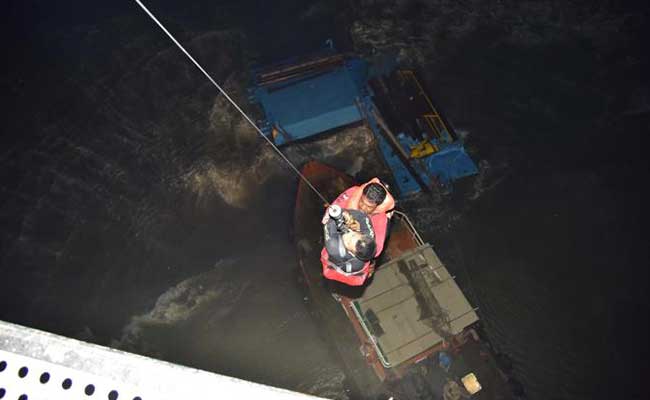 Mumbai:
Four men stranded in a tugboat off Mumbai were rescued by Navy divers and a helicopter late on Monday night.
"The Mumbai main police control room received a distress call last night that tugboat Sonika, with four men on board, had run aground on rocks in the waters off Raj Bhavan during low tide and had begun to flood," a Defence spokesperson said.
The boat was stuck somewhere near the site where a giant statue of Shivaji has been planned.
A police vessel that arrived at around 9:15 pm could not reach the tugboat because of rocks and shallow waters, said the official.
"The Indian Navy was approached for assistance and the joint operations centre was also contacted by the police," the spokesperson said.
Over two hours after the SOS, at around 11:20 pm, a naval helicopter with divers was launched from naval air station INS Shikra.
Visuals show the stranded men in life jackets being pulled to safety by the helicopter with the help of ropes.
The defence spokesperson said, "The helicopter was able to extract all the four stranded men and returned to the base by 11:45."