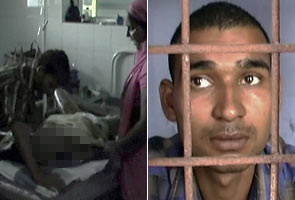 Lucknow:
A 15-year-old girl was set on fire by two men in the Bahraich district of Uttar Pradesh on Monday night.
The teenager's parents had called off her wedding to one of the men, identified as Satish, after she refused to marry him.
On Monday night, Satish, along with one of his friends, entered the girls house and set her on fire while she was asleep.
Three policemen, the station officer of Fakharpur police station and two constables have been suspended for not registering an FIR on the complaint of the girl's father and causing delay in action.
The main accused, Satish, is still absconding but his friend, Subhash, has been arrested.
The girl has suffered 90 per cent burns; her condition is critical.