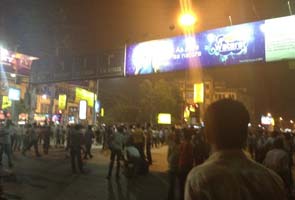 Kolkata:
Protests in the Park Circus area of central Kolkata threw traffic out of gear for over six hours on Tuesday.
The protests was triggered by a photograph that was published in a local newspaper that was allegedly tweeted by model Poonam Pandey. The newspaper has offered an apology since.
Senior police officers had earlier rushed to the spot to persuade the agitators to lift the blockade which stalled traffic movement from Park Circus crossing to Bridge number four since 3.45 pm.
Traffic disruptions were also reported from the nearby Mullickbazar area.
West Bengal Chief Minister Mamata Banerjee on Tuesday appealed to all for maintaining communal amity and refraining from indulging in rumours and said that the state government would take all steps to rein in the situation.
In the appeal, the chief minister said that some persons were trying to foment communal tension centering around a published photograph in a newspaper and urged all not to get provoked.
"Higher secondary examination is progressing. I am requesting all to see that the examinees are not disturbed," she said.