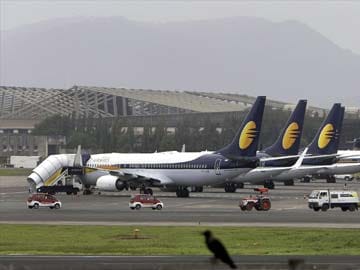 Kolkata:
Two lunch boxes hidden in the toilets of a Jet Airways plane triggered first a bomb scare and then a smuggling probe as the tins were found to contain 12 gold bars each, a senior customs official said on Wednesday.
Smuggling is on the rise into India, one of the world's biggest buyers of gold, after the government raised import duty to a record 10 percent and slapped restrictions which have shrivelled supplies into the domestic market.
The Jet Airways plane had arrived at Kolkata's international airport from Patna on a domestic flight, but normally operates between the gold trading hub of Dubai and Mumbai, home to India's largest gold market. It was undergoing routine cleaning when maintenance staff discovered the two small tins.
"There was a bomb scare immediately when the bags were spotted in two separate toilets at round 1 a.m., but later we found they contained 12 pieces of gold bars in each," Additional Commissioner of Customs at the airport, Rameshwar Meena, told Reuters.
"The gold bars are from Dubai for sure. The flight had come from Patna to Kolkata last, but its basic route is Dubai-Mumbai."
The bars weigh 1 kg (2.2 pounds) and are about the same size as a portable smart phone. Meena said the haul was worth Rs 7.3 crores. Customs officials said there had been five cases over two months involving a total 100 kg.
"We feel that what we catch is less than 10 per cent or so and there are so many groups operating, it is impossible for us to keep a check," said an official at the revenue intelligence department, who asked not to be identified as he is not authorised to speak to the media.
Finance Minister P. Chidambaram said this month the measures had prompted a slight rise in smuggling, but his officers had said no one could bring in more than 5 kg.
"You cannot carry more than 5 kg of gold and still go undetected," he told CNBC TV18.
At Kolkata, Meena said investigators were questioning airline and airport staff. Profiles of passengers on the flight from Dubai were being checked.
The revenue intelligence officer said a man had been arrested in an earlier case on suspicion of concealing 5 kg of gold in the toilet of an Air India plane in Dubai. He left the plane in Mumbai and another passenger removed the gold after it had flown on to Goa.
Crews are now on alert for passengers lingering in the loo.
"We are educating (our staff) about aircraft maps of how toilets are in an Airbus or a Boeing. We are also asking the aircraft crew to tip us off about people who spend slightly more time in toilets," the revenue intelligence officer said.
© Thomson Reuters 2013