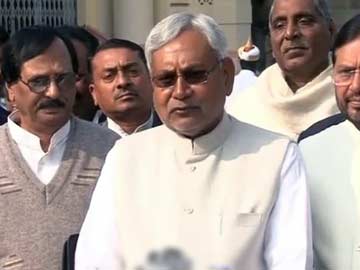 Kolkata/Patna:
Amidst outcry after the death of a 16-year-old girl who was gangraped twice in Kolkata, the West Bengal government condemned "politics over her body" on Thursday, even as Bihar Chief Minister Nitish Kumar announced Rs one lakh for the victim's family.
In Patna, Mr Kumar announced Rs one lakh for the family of the girl and promised to rehabilitate them in Bihar if they chose to do so.
Mr Kumar directed the Inspector General of Police, Special Branch, G S Gangwar to meet the family, which hails from Bihar, and assist them in any way possible.
"I am deeply saddened over the incident which deserves condemnation in the strongest words," Mr Kumar told reporters.
He said he and the people of Bihar were fully behind the victim's family and that Bihar Director General of Police Abhayanand had spoken to his West Bengal counterpart to find out the details of the incident.
In Kolkata, Chief Secretary Sanjay Mitra told a press conference, "The police and state government fully cooperated with the family. On Wednesday, there were a lot of people on the streets because of new year celebrations.
"But still we have provided the family with all kinds of cooperation and help that they had asked for. We have also helped them in the cremation, whatever help they had asked for," Mr Mitra claimed.
He said financial help and assistance would be given to the bereaved family.
"The government is fully with the bereaved family. However, at this point I would wish to strongly deplore the tendency to create politics over a dead body," said Mr Mitra.
He also said that there was no negligence in her treatment as alleged by the victim's family.
"All the accused against whom there are allegations have been arrested. We are committed to zero tolerance for sexual violence," he said.