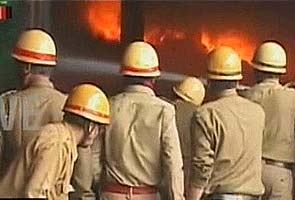 Kolkata:
A major fire broke out this morning in a 20,000-square-foot godown at Burrabazar, the commercial hub of the eastern region, destroying goods comprising cloth and other inflammable material.
The fire, which started at a shop around 8.30 am and spread to other shops in the three-storied building, was brought under control by 25 fire tenders, Director-General of West Bengal Fire Services Gopal Bhattacharya said.
He said the firemen encountered difficulty in putting out the fire owing to the building's location on a narrow lane.
State Disaster Management Minister Javed Khan said four portable pumps, which sourced water from the nearby Ganga, were also used to douse the fire.
The cause of the fire and the extent of the damage would be known after a forensic examination was conducted, Mr Bhattacharya said.