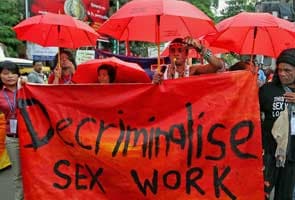 Kolkata:
Hundreds of sex workers from across the world are holding a protest rally in Kolkata today after they were denied visa by the United States to attend an International AIDS conference being held in Washington DC. The rally is part of an ongoing parallel conference that has been organised in the city by the sex workers in a bid to register their protest.
The five-day global conference, which began on July 22, is an annual congregation of organisations and agencies from across the world engaged in controlling AIDS.
Under the banner of Global Hub of the International AIDS Conference, over 550 representatives of sex workers from 47 countries are attending the event in Kolkata which is being hosted by the Durbar Mahila Samanwaya Committee.
The conference will deliberate on the 'Seven Freedoms' - the right to move, work, access to healthcare, participate, organise, be free of violence and discrimination - without which the community of sex workers cannot reduce their vulnerability to HIV.
Held every two years, the International AIDS Conference returned to the United States for the first time since 1990 after being kept away by laws that barred people with HIV from travelling to the country.
However, there was satellite communication between the two conferences to enable the sex workers' and other stakeholders' to participate from Kolkata.
(With PTI inputs)