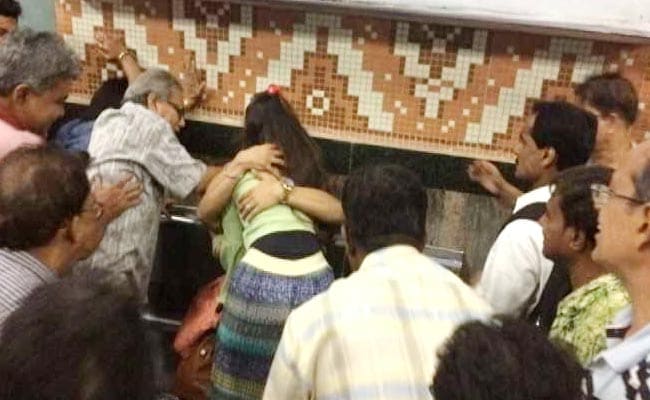 Kolkata:
After a young couple was harassed on the Kolkata metro for "standing too close", the police has registered a suo motu FIR to probe the incident following mass protests and a petition that were triggered by the incident.
The couple was pushed off the metro they were in and then
thrashed by a mob on Monday night
after an argument with a senior citizen who bumped into them while boarding the train. Other passengers also joined the fight and started to heckle the crowd and the couple was told to "get a room" and "go to a club". The man was kicked and punched, and according to a passenger who clicked photographs of the incident on his mobile phone, the woman was also not spared.
At the next station, which was Dumdum, the couple was pushed out and beaten by the group of passengers who were heckling them, which included middle-aged and elderly people. Witnesses say that passengers from another coach had to cut in and drag the couple to safety.
Photos of the incident went viral leading to protests outside Tollygunge and Dumdum metro stations on Wednesday. Several passengers also signed a petition asking for action against the incident which was forwarded to Kolkata police by Metro Rail authorities.
"We have registered an FIR. We have already started taking action so that those who were involved in the incident can be identified and nabbed," senior police officer Debasis Sarkar told news agency Press Trust of India.
Metro Railway on Wednesday said they had checked CCTV footage
but found "no clear evidence" of the alleged assault.
Police are also investigating an alleged assault on some girls protesting the incident on Thursday evening near Dumdum metro station. Police are looking at CCTV footage and recording witness statements.
With inputs from PTI