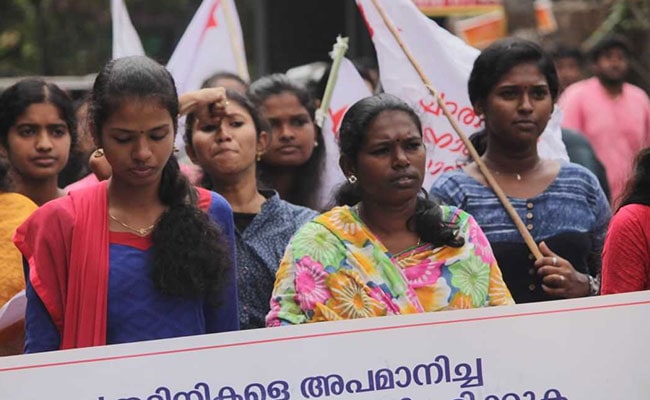 New Delhi:
A group of protesters today marched to the office of a Malayalam vernacular magazine here raising slogans, claiming that a novel serialised in the publication defamed Hindu women and the Brahmin community.
Gayathri, which claims to be a socio-cultural organisation of Namboodiri Brahmins, marched to the office of Mathrubhumi, a prominent Malayalam media group, against the novel 'Meesha'.
Author S Hareesh, a 2018 Kerala Sahitya Akademi Award winner, had decided to withdraw his novel after the magazine published three chapters following threats allegedly by right-wing elements on social media.
This was confirmed by Kamalram Sanjeev, an editor with the weekly, on Twitter.
"S.Hareesh withdraws his novel 'meesha', literature is being mob lynched, darkest day in kerala's cultural history,lightless days to follow," Sanjeev tweeted.
The novel, which deals with the lives of backward communities in southern Kerala, courted controversy soon after its second chapter was published.
Gayathri said the governments in Kerala were giving more space to litterateurs who are defaming Hindus.
"We wonder on what basis the Kerala government gave the state Sahitya Akademi Award to a writer like Hareesh," a protester said.
Controversy erupted over a conversation in the novel in which a male character says that women who dress up to go to temples subconsciously declare readiness for sexual relations.
The character goes on to say that the reason women don't visit temples for four to five days a month is to make it clear that they are not ready for sex on those days.
He adds that Brahmin priests were well known womanisers.
Congress MP Shashi Tharoor, who himself is under attack from right-wing activists over his 'Hindu Pakistan' comment, came out in support of Hareesh and said those who didn't believe him might learn from what happened to Hareesh.
"Those who do not believe my warnings about the emergence of a Hindutva Taliban might learn from what has just happened to Malayalam writer Hareesh (& even more chilling, the threat to chop off his hands, Taliban-style)," Mr Tharoor tweeted.
Renowned Tamil writer Perumal Murugan had earlier announced his decision to give up writing in 2015 after his novel 'Madhorubhagan' faced protests from local Hindu and caste-based organisations.
The website of Gayathri says the organisation was founded in 1985 as a platform for Namboothiri brahmins in Delhi to come together and is now a cultural organisation.