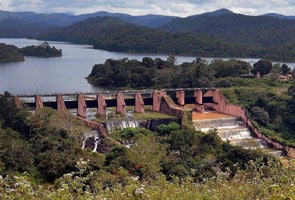 Kumily, Kerala:
Kerala Police Monday night issued orders banning any gathering of more than five people for three days in and around the border checkpost near here as protestors from Tamil Nadu and Kerala clashed over the Mullaperiyar Dam - a contentious issue between the two neighbouring states.
Speaking to IANS, Kerala Director General of Police Jacob Punnoose said the prohinitory orders were being clamped to ensure normalcy returns to areas in and around Kumily.
"We have rushed additional police forces to the areas and the issue is reported to have broken out in the forest areas of the border. I have spoken to my counterpart in Tamil Nadu," said Punnoose.
Matters turned tense since afternoon when Kerala establishments and vehicles owned by Keralites were attacked on the border.
For the past 10 days, top political leaders from Kerala cutting across political parties have undertaken fasts to prevail upon the central government to intervene and persuade Tamil Nadu to let Kerala de-commission the 115-year-old leaking Mullaperiyar Dam and construct a new dam.
Chief Minister Oommen Chandy Monday night asked people to maintain calm.
"Nothing should be done to vitiate the good friendly relations that Kerala and Tamil Nadu share. There should be no violence at all as it would dent the proposed talks that will take place shortly between the two states," Chandy said.
"The Supreme Court appointed empowered committee is arriving to visit the Mullaperiyar Dam shortly and absolute restraint has to be there because talks will be successful only if absolute peace and calm is there," Chandy's press statement issued late Monday night said.
"The director general of police has been asked to see that action is taken against law breakers. Tamil Nadu has assured us that they will deal strongly with those who violate the law," added Chandy.
Kerala and Tamil Nadu have been at loggerheads over the dam, built in Idukki district under an 1886 accord between then Maharaja of Travancore and the erstwhile British Raj. While the dam is located in Kerala, its waters serve Tamil Nadu.
Tamil Nadu wants the dam's storage capacity to be increased by raising the dam height from 136 feet (41.5 metre) to 142 feet (43 metre) as the state's irrigation needs have shot up.
Kerala is worried that a strong earthquake might damage the dam and cause widespread destruction and flooding. It is seeking a new dam and has offered to fund and build it. But Tamil Nadu does not agree.
Experts have pointed out that if a quake strikes the dam and it is damaged, people and property in districts of Idukki, Kottayam, Alappuzha, Ernakulam and parts of Thrissur would be washed away.
For the past 10 days, numerous top political leaders, irrespective of political affiliations, are on a fast at two places in Idukki district. On Monday, it was the turn of state Finance Minister K.M. Mani to sit on daylong fast, which he termed as a prayer session.