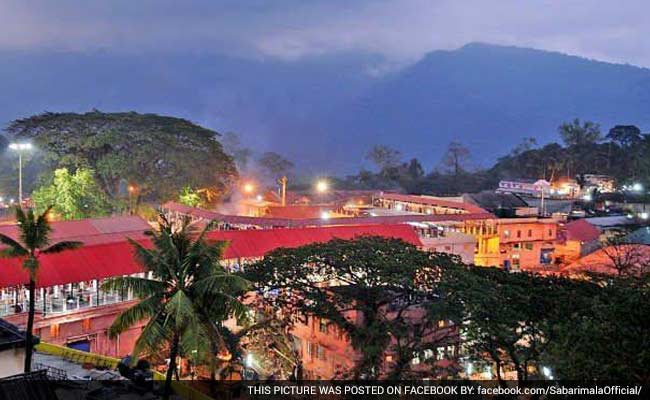 MUMBAI:
Government authorities and temple officials in Kerala state are standing firmly by a decades-old tradition of banning women from one of the holiest Hindu temples after the Supreme Court questioned the temple's right to bar women.
The Supreme Court has asked the Travancore Devaswom Board, which manages the famous Sabarimala temple, to clarify why it prohibited women from entering the shrine, saying this breaches the constitution.
The hilltop temple is one of a few in India which bars women of reproductive age, only allowing entry to girls aged under 10 and women over 50.
This ban came under legal scrutiny on Monday this week after the Young Lawyers' Association filed a petition seeking entry for all women but government officials on Tuesday defended the ban.
"This practice is going on for centuries," Home Minister Ramesh Chennithala told reporters in Thiruvananthapuram. "The chief deity in the temple is a celibate. So allowing women to worship in the shrine is a sin," said the temple's chief priest Thazhamon Madom Kandararu Rajeevaru.
Scores of women took to social media last November, joining a campaign launched as #happytobleed, after the head of the temple said he would consider allowing women to enter if there was a machine to check if they were menstruating.
In many communities, menstruating girls and women are not allowed to prepare food or enter a temple.
"The Board will implead in the case to protect the interests of the devotees," said Prayar Gopalakrishnan, president of the temple's board. "The divinity of the shrine comes from this custom. That will be protected at any cost."
An estimated one million Hindu pilgrims flock every year to the Sabarimala temple in the Western Ghats hills to pray to the deity Lord Ayyappan who meditated at that spot, according to Hindu mythology.
Temple Affairs Minister VS Sivakumar said the government "will protect the faith and custom" and file an affidavit in the Supreme Court on January 18 in consultation with all stakeholders.
© Thomson Reuters 2016