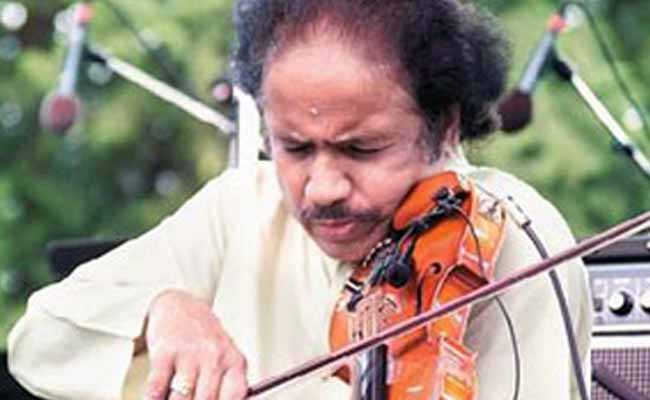 Thiruvananthapuram:
Amidst the raging debate on growing 'intolerance' in the country, violin virtuoso and composer Dr L Subramaniam today took a varying point of view, saying India was one of the most tolerant countries in the world.
India had tolerated several attacks and invasions in the past and that itself had been a proof of the great tolerance of the country, the maestro told reporters in Thiruvananthapuram.
"India is one of the most tolerant countries in the world. Here, anybody can speak against anyone and it can be broadcast and published in newspapers. That itself shows the tolerance of the country," he said on the debate on intolerance in the country.
The Padma Bhushan awardee said he had performed in certain countries where "you say one word, and people have disappeared."
Dr Subramaniam is in the city along with his singer-wife Kavitha Krishnamurthi to perform at the Lakshminarayana Global Music Festival.
Stating that it was "not appropriate to call a country intolerant taking into consideration one or two isolated instances", he said, "We are highly cultured and we should focus on making our country a powerful one."
On the recent cancellation of Pakistan singer Ghulam Ali's concerts in India, he said the singer was one of his friends and he had performed several times in the country before.
The 68-year-old composer-conductor also hailed Kerala's contributions in the field of art and culture in different periods.
"Kerala is a place which had produced legendary composer like Swathi Thirunal and painter Raja Ravi Varma. The state has such a great pool of talents here. I hope the state will become 100 per cent literate in terms of arts and culture also," he said, expressing happiness to open a music academy in Kerala if he gets enough support.
Echoing the same sentiments of her husband, Ms Kavitha said she was excited to come back to Kerala and called the state as the most beautiful and tolerant states in the country.
Hungarian violinist Roby Lakatos and cimbalom expert Jeno Listzes were also present during the conference.
The Lakshminarayana Global Music Festival was established in 1992 by Dr Subramaniam in memory of his late father and guru, Professor V Lakshminarayana.
Since its inception, the LGMF has presented some of the greatest artistes from around the world including Yehudi Menuhin, MS Subbulakshmi, Bismillah Khan, Al Jarreau, Stanley Clarke, George Duke and Jean-Luc Ponty.