Thiruvananthapuram:
BJP chief Amit Shah, in a traditional Kerala
dhoti
, offered prayers on Tuesday morning at the Rajarajeshwara temple in the northern district of Kannur before launching his party's
Jan Raksha (protect people) yatra.
In a direct challenge to Kerala Chief Minister Pinarayi Vijayan, the BJP began its
yatra
in Payyannur, adjacent to his home town Pinarayi, in Kannur, notorious for
decades of political violence.
Over the next 15 days, Amit Shah and other top BJP leaders and union ministers will relay walk along with hundreds of party workers across the state to capital Thiruvanthapuram, to highlight what the BJP calls the ruling CPM's "murder politics." Uttar Pradesh chief minister Yogi Adityanath, also the Hindutva face of the party, reaches Kannur today to lead the
yatra
.
Mr Shah is in Kerala for three days, and on Thursday, will again join the
yatra
on foot as it crosses Pinarayi.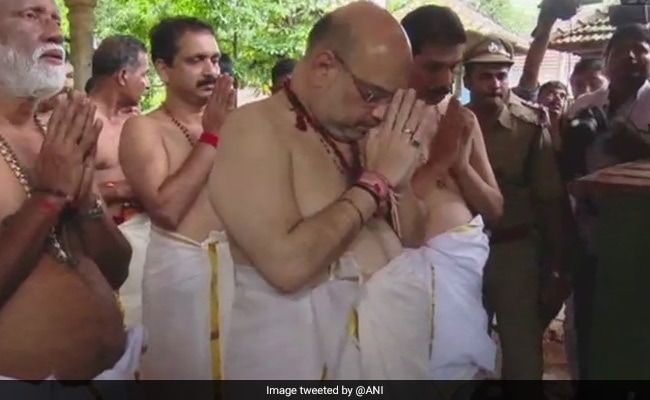 The BJP has said the
yatra
will target "Jihadi-Red terror." The party alleges a spike in
murderous attacks on its workers
and members in the state by the CPM cadre since the party came to power in Kerala last year, claiming that 14 of its members have been killed since then in Kannur alone and 120 in all of Kerala since 2001. "More than 120 BJP workers have been martyred. What was thier fault?" said Amit Shah today, adding, "CPI(M) leader and Kerala Chief Minister Vijayan is directly responsible for all political murders in Kerala," Amit Shah said on Tuesday.
Hours before Mr Shah launched the
yatra
, Chief Minister Pinarayi Vijayan used a Facebook post to hit back at the BJP saying, "The Sangh Parivar shouldn't think that they can make inroads into Kerala by false propaganda. The state government is committed to ensure peace. Instead of fueling false stories and processions, people expect central ministers and ruling party leadership to control their workers and ensure peace."
CPI(M)'s Brinda Karat accused Mr Shah of "deliberately inciting violence" against its leaders and workers. "Amit Shah is deliberately inciting violence against CPI (M) leaders. We are a recognised national party. We are here not because of Shah but because of the people. We will not tolerate this," she told news agency PTI.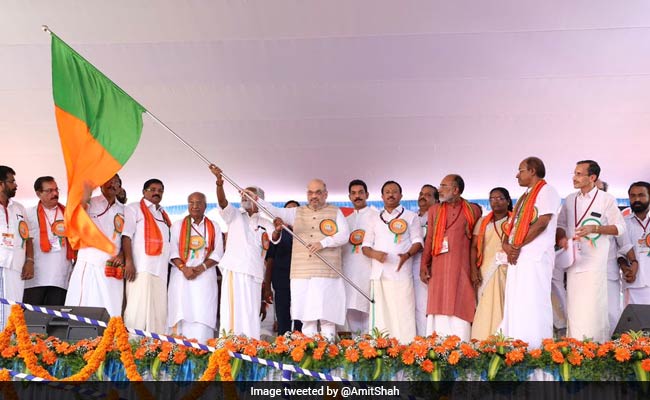 The BJP has been a bit player in Kerala politics for years and it remains the only state where the party is yet to make significant electoral gains, but Amit Shah has been making focused efforts to gain a foothold ever since he took over as party chief in 2014. In last year's assembly elections the party could win just a single seat in the 140-member Kerala assembly, but Mr Shah wants to change that, preferably before the 2019 national election, when he hopes Kerala will contribute to a BJP return to power. The party has never won a parliament seat from Kerala.
Kannur has for years witnessed clashes, especially between Left activists and those of the BJP and its ideological mentor the RSS. In the 16 months since May last year, when the CPM-led Left Democratic Front won the assembly elections in Kerala, there have been eight gruesome political murders - five BJP workers and three of the CPM have been killed allegedly by political rivals.
Crime Bureau statistics show that 45 CPM activists, 44 of the BJP, 15 of the Congress and four from the Muslim League have been killed since 1991 in Kannur.
Follow NDTV for latest election news and live coverage of assembly elections 2019 in Maharashtra and Haryana.
Subscribe to our YouTube channel, like us on Facebook or follow us on Twitter and Instagram for latest news and live news updates.