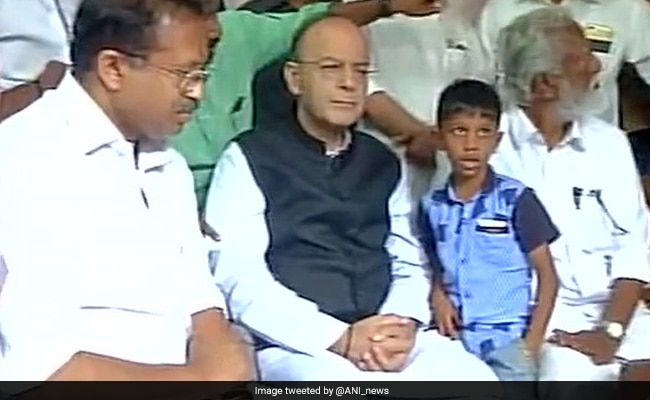 Highlights
Arun Jaitley met family of RSS worker Rajesh Edavakode who was killed
Families of CPM workers who were killed demanded Mr Jaitley meet them too
Mr Edavakode, 34, died in hospital after his arm was chopped off
Thiruvananthapuram:
Families of CPM workers who died in political violence in Kerala protested outside the Raj Bhavan in Thiruvananthapuram today as Union Minister Arun Jaitley today met the family of the RSS worker who was brutally killed last week. The Left government in
Kerala has also called an all-party meet
in the state capital
. Rajesh Edavakode, 34, died in hospital last Saturday after his arm was chopped off
following clashes between CPM and RSS workers.
Relatives of 21 people who died in suspected political attacks over the years held a
dharna
in front of the Governor's house demanding that the union minister visit their homes too.
"I visited the kin of our deceased
karyakarta
Rajesh who was slaughtered in the most barbaric manner," Arun Jaitley told reporters after meeting the widow, son and parents of Mr Edavakode. "You find rival political workers involved in this exercise. We are here to mourn Rajesh's death," he said.
Mr Edavakode was allegedly killed by a gang, which the BJP and his family allege, is linked to the CPM. The police, however, have maintained that the attack was due to personal rivalry. The episode had led to uproar in the Lok Sabha.
Ahead of Mr Jaitley's meeting with the family, a local CPM leader from north Kerala's Kannur district wrote to him, inviting him to visit her husband who was attacked by nine masked men last month. The ruling CPM alleges that the RSS is behind the attack on Sreejan Babu, 43, who has been in hospital for over a month.
"On 03-07-2017, at about 2 PM, he was awaiting passengers in his vehicle, when a group of RSS goons dragged from auto and attacked my husband from all sides prohibiting escape...I also request you (Mr Jaitley) to visit my husband who is in the hospital for the last 33 days in a very critical condition," Remya Sreejan wrote.
Senior CPM leader Kodiyeri Balakrishnan and Kerala BJP president Kummanam Rajasekharan were among those who met for 'peace' talks on Saturday in politically volatile Kannur - infamous as the epicentre of political murders for decades. "We will ensure all our decisions will be passed on to our cadre in the next 10 days. All efforts will be made to ensure peace," Mr Balakrishnan said.
"All measures will be taken to ensure peace and we also expect political freedom for us, like others," Rajasekharan said.
According to State Crime Records Bureau, since 1991, 45 CPM workers and 42 RSS-BJP workers have been killed allegedly by political rivals in Kannur.
NDTV accessed police records
which say 50 CPM and 44 RSS workers have been killed since 2006. "Since Feb 2016 -July 2017, 4 CPM and 10 RSS/BJP activists have been killed," the police record said.
Since the Left coalition came to power in Kerala last year, several such peace meetings have been held in Kannur and Thiruvananthapuram and village-level meetings in Kannur by Chief Minister Pinarayi Vijayan.