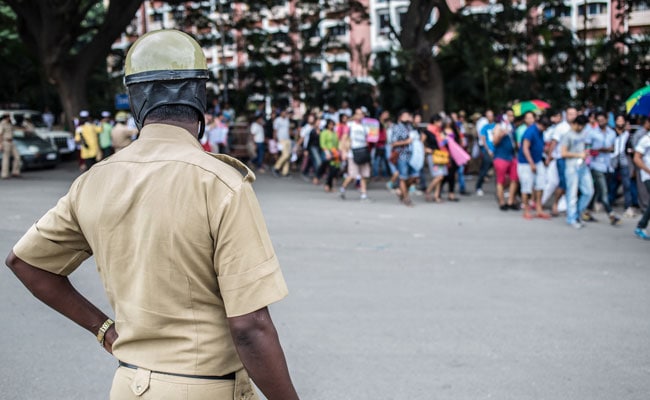 Mangaluru:
The police in Karnataka's coastal district of Dakshin Kannada near Puutur have been accused of beating up a young man and harassing his female friend in an alleged case of moral policing, prompting the state's Home Minister to order an investigation. In a video message that has been widely shared online in the last two days, the young woman says she and her friend were targeted because they belonged to different religions.
"I had called him near the temple to meet him. Both of us had worked together in a film, so I called him. I wanted to take him to the temple with me but some people protested after which my ID card was asked. I did not have ID proof, so people called the police," she said.
"My friend was taken to the station... he was not allowed to talk to the police. Policemen started beating him brutally. This news is being covered continuously for the last few days. I thought that everything would be settled but it's not stopping," she added.
"I was pressured in the police station that I should follow the line being dictated by the police else he will be labelled as a terrorist and his sister's marriage will also be stopped. That's why I have decided to release this video. We are only friends. False news about our relationship was spread, due to which both of us have been suffering," she said.
The two were taken in by the police from the Subramanya Mandir late last month after police received a complaint that a boy and a girl of two different religions have been "caught" by some people, triggering an altercation.
Karnataka Home Minister Ram Linga Reddy has said that he has already ordered strict action against the policemen if found guilty. The Superintendent of Police of South Kannada district Sudhir Kumar Reddy said that the head constable of Subramanya Police Station and a constable could be charged in the incident.
The incident comes in the wake of
a series of similar ones
where men and women have been reportedly harassed in the district because they belonged to different faiths.
In another incident of alleged moral policing that happened today at Mulki near Managluru and was recorded on cellphone video by a witness, suspected right-wing activists targeted two young Hindu women accompanying two Muslim men. One man was arrested over the incident.