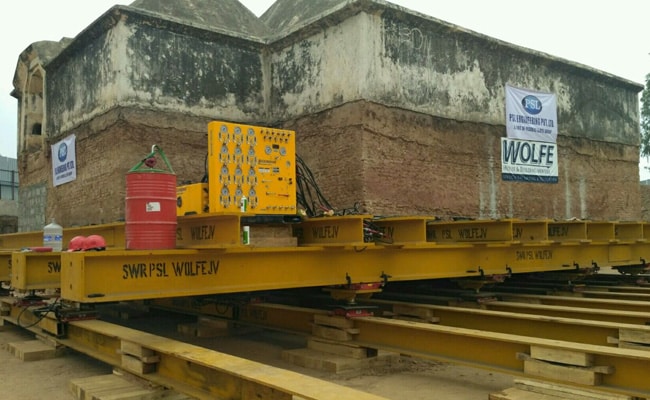 Highlights
Tipu Sultan's armoury in Srirangapatna being shifted by 100 metres
The armoury was built by Tipu Sultan between 1782 and 1799
The railways will spend around Rs. 13.5 crore for the relocation
Bengaluru:
A more than 200-year-old building is on the move, literally, to make way for a railway track. The armoury of Tipu Sultan in Srirangapatna -- foundation and all -- mounted on hydraulic rams, moved 25 meters on Tuesday. The destination of the 1000-ton monument is 100 meters away, at a spot chosen by the Archaeological Survey of India. The premier agency in charge of all protected monuments is keeping a hawk's eye on this delicate process.
The armoury is a single storey brick masonry structure with an arched roof, built by Tipu Sultan between 1782 and 1799. According to historians, it is made of hollow bricks, lime and stone mortar. A processed mixture of eggs with shells and jaggery has been used to to maintain the effectiveness of gun powder and weapons irrespective of weather.
This is the first time such a structure is being shifted in India. There being no adequate technology here, an US-based company, Wolfe, has undertaken the project in a joint venture with New Delhi-based PSL Engineering. The railways will spend around Rs 13.5 crore for the relocation - an exercise made necessary as the monument sat on the path of the proposed Bengaluru-Mysuru railway track.
While the plan has been in pipeline for a while, work started a few weeks ago as experts excavated the soil around the structure and inserted beams to lift it.
On Monday, the work to shift the monument started. It is likely to reach its new location on Thursday. After that, it is expected to take two months to separate the structure from the iron beams and place it on a cemented platform which has been readied.
The railways plans to start track work from next week and finish the pending stretch in 15 days.