Bengaluru:
Rahul Gandhi will go to temples during the campaign for assembly elections in Karnataka later this year
as he did in Gujarat
, but also churches and mosques, the state's Chief Minister Siddaramaiah of the Congress said today. He described himself as "a Hindu with humanity" and BJP leaders as "pseudo Hindus".
Speaking to NDTV exclusively after Prime Minister Narendra Modi's recent rally in Bengaluru, the chief minister also said that he is not worried about the PM unleashing a major campaign blitz in Karnataka, like he did in the Gujarat elections recently.
"No doubt Narendra Modi used to be popular in the last elections, but no longer. What happened in the Rajasthan by-elections? He can't say he is not responsible for the defeat. His popularity is diminishing," Mr Siddaramaiah said.
Last week, the Congress won two parliament and one assembly seats in
by-elections in Rajasthan
, snatching all three from the BJP, which rules that state. Assembly elections are due to be held in Rajasthan along with those in Karnataka, and the Congress hopes the by-election results signal a turn in its fortunes after its worst performance ever in the 2014 national elections and a string of losses in state elections since. Up ahead are key elections in eight states this year before the national election next year.
In Karnataka, Mr Siddaramaiah will take on a BJP intent on winning back from the Congress the only southern state it has ruled. The chief minister said any attempt by the rival party to play the Hindutva card in this year's election will not work in his state. "Karnataka is a different state. Hindutva does not work in Karnataka because the voters here are mature and prudent. Their divisive politics won't work here," he said.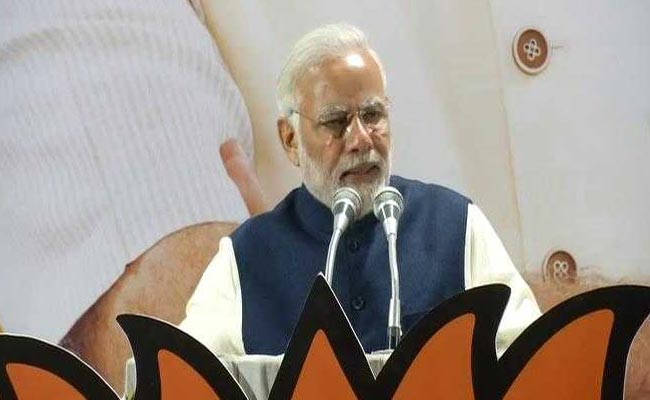 He also rejected the tag of "atheist" that he is often given. "I am not an atheist, I believe in God but I don't go to temples. I go to temples in my constituency. God is in us. The BJP walas are pseudo Hindus," he said. That, he confirmed, was a reference to Uttar Pradesh Chief Minister Yogi Adityanath, a saffron-robed priest-politician and their ideology of polarising communities against each other.
It is clear he has found his counter to the BJP in a campaign for Kannada pride, not unlike Prime Minister Narendra Modi's call for "Gujarati asmita" during assembly elections in his home state Gujarat two months ago.
"I am a proud Kannadiga, yes," Mr Siddaramaiah said, stoutly defending his move to make Kannada compulsory in even CBSE schools in the state and opposing signage in Hindi in Bengaluru's Metro. "I am not against English or Hindi but anyone staying here should know Kannada," the chief minister reiterated.
Asked about rivals calling his government a "government of scams, the chief minister said, "Where are the scams?"
He was also dismissive about tax raids on his ministers and allegations of a housing scam of up to Rs 250 crore in building 50,000 homes, saying, "Do raids mean conviction? Where is I-T's statement? It is their party which has people who have corrupt people. It is a fact that BS Yeddyurappa has gone to jail and an appeal against him is still pending," a reference to the BJP's top leader in the state.
Follow NDTV for latest election news and live coverage of assembly elections 2019 in Maharashtra and Haryana.
Subscribe to our YouTube channel, like us on Facebook or follow us on Twitter and Instagram for latest news and live news updates.