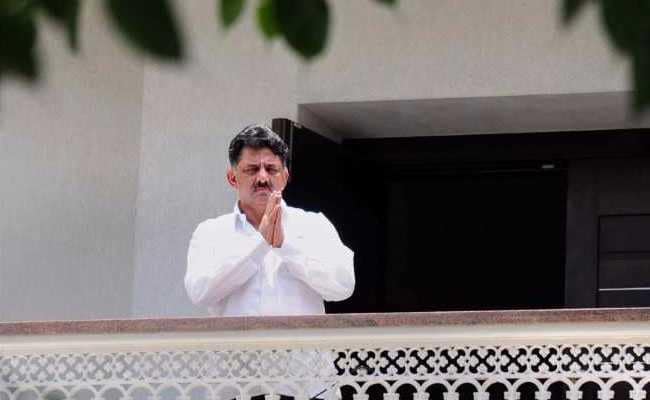 Bengaluru / New Delhi:
Cash of over Rs 11 crore has been seized till now by the Income Tax Department as part of the ongoing searches at multiple premises linked to Karnataka Energy Minister DK Shivakumar and his associates in connection with a case of alleged tax evasion.
The minister has been overseeing the stay of 44 Gujarat Congress MLAs at a resort on the outskirts of Bengaluru, who have been brought to the Karnataka capital in view of the Rajya Sabha polls in their state.
The raids that are continuing at many locations for the second day today, saw Income Tax officials seizing a number of documents, account books and financial papers. Around Rs 8.33 crore cash has been seized from Delhi, Rs 2.5 from Bengaluru and Rs 60 lakh from Mysuru till now, a senior official said. "About Rs 11.43 crore cash has been seized till now from various locations. Some searches and surveys are still on," the official added.
He also said that the valuation of some jewellery found during the searches is being done as of now.
Documents related to investments in real estate, including some alleged
benami
ones, are being analysed by the department, the official said.
The department has said that it is investigating Mr Shivakumar in a case of alleged tax evasion and huge undisclosed investments in real estate, jewellery and other sectors.
Certain investments linked to him in Singapore and few other foreign locations are also under the scanner of the department, they said. Some shell firms and their operatives allegedly linked to this case are also being probed, the department sources had said yesterday.
In a swoop down that raised a political storm, the Income Tax department had yesterday conducted searches at 64 locations and properties linked to Mr Shivakumar.
He has been put in charge of 44 MLAs lodged in the Eagleton resort near Bengaluru to keep the flock together for preventing the BJP from "poaching" on them ahead of the Rajya Sabha polls in Gujarat where Ahmed Patel, political secretary to Congress president Sonia Gandhi, is facing a tough battle.
The ruling Congress in Karnataka will be holding a protest in the city later today against the raids on Mr Shivakumar, accusing the Centre of "dictatorial" attitude and "murdering democracy".
Mr Shivakumar, hailing from a modest agrarian family, is an influential Vokkaliga community leader and also one of the wealthiest state ministers in the country.
According to the affidavit filed by him for the 2013 Assembly polls, he had assets over Rs 251 crore, including those of his wife and children and liabilities of over Rs 104 crore.
55-year old Shivakumar, considered a resourceful trouble shooter for the Congress with proximity to the party high command, is a six-time MLA. He has also made known his chief-ministerial ambitions while making it clear he would bide his time.
The raids at the resort had yesterday sparked a huge political row with Parliament getting disrupted and Congress calling it "unprecedented witch-hunt" to win one Rajya Sabha seat.
Chief Minister Siddaramaiah alleged it was a politically motivated action to silence the voice against the BJP.