Highlights
A man in Karnataka was duped with a photocopy of new 2,000 rupee note
The new Rs 500 and Rs 2,000 note are being called "high security" notes
In a surprise move, centre banned big currency notes on Tuesday midnight
Chikkamagaluru:
Just two days after banks started issuing new "high security" 500 and 2,000 rupee notes, a farmer in Karnataka was cheated by a man with a photocopy of Rs 2,000 note on Saturday.
Ashok, a farmer in Chikkamagaluru, had brought onion sacks to a nearby market. An unknown man, who purchased onions from him gave him a 2,000 rupee note claiming it was a valid new note issued by banks. Later, when Ashok showed it to his friends, he found that the note was a photocopy of the original currency note and was trimmed at the edges.
"It was a photocopy of the original note... anybody can notice it easily. The person (Ashok) was given the copy by a man in APMC market," Superintendent of Police K. Annamalai said.
The new 500 and 2,000 rupee notes that Central Bank RBI is issuing starting from Friday are being called "high security" notes and have several new features to make them harder to fake than the 500 and 1,000 rupee notes that were scrapped from Tuesday midnight.
The new 2,000 rupee note, said the Reserve Bank or RBI in a statement, included several features like a see-through register with the denominational numeral 2,000 which can be seen when the note is held up against light.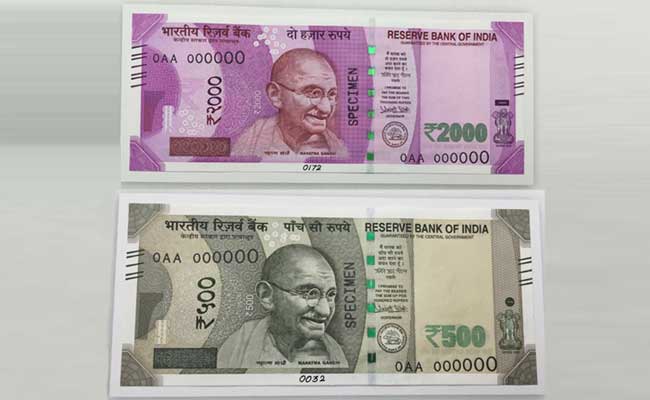 There is also a latent image with the denominational numeral 2,000, which can be seen when the new note is held at a 45 degree angle at the eye level.
The new notes also have a colour-shifting windowed security thread with the inscription '
भारत
', RBI and 2,000. The colour of the thread will change from green to blue when the note is tilted.
For the visually-impaired, there is a raised print of Mahatma Gandhi's portrait, the Ashoka Pillar emblem, bleed lines and identity marks.
The RBI said the 2,000 rupees notes have a motif of the Mangalayan, India's Mars mission and the base colour is magenta.
Meanwhile, tempers frayed as hundreds of thousands of people in the country queued for hours outside banks for a third day to swap their 500 and 1,000 rupee notes. Some minor incidents of violence were also reported in Delhi and other parts of the country after banks struggled to dispense cash.
Finance minister Arun Jaitley on Saturday said ATMs had not been adjusted to handle new currency notes prior to the announcement in order to keep it under wraps. "Recalibration of ATMs will be completed within two weeks," he added.