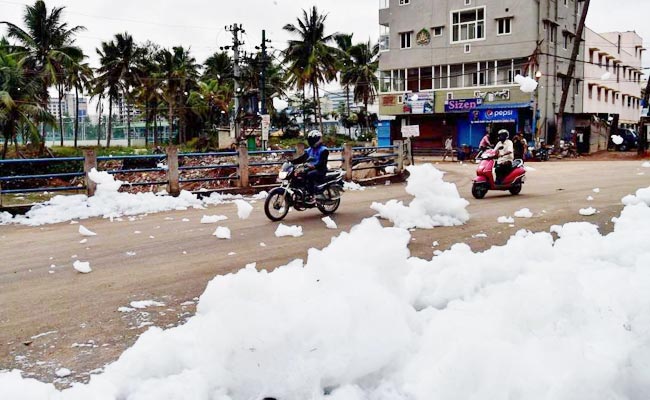 Bengaluru:
With Bengaluru's lakes making headlines for their froth, flames and overall pollution, the National Green Tribunal (NGT) today found Karnataka negligent in protecting its water bodies and keeping the city's drains free of encroachments.
The HD Kumaraswamy government has been asked to pay Rs 50 crore as "environmental penalty", which would be deposited with the Central Pollution Control Board (CPCB) for restoring the environment. The city's civic body -- the Bruhat Bengaluru Mahanagara Palike -- has also been asked to deposit Rs 25 crore with the CPCB, of which Rs 10 crore will be transferred to the state pollution board.
Besides this, the tribunal directed the state government to set up a panel for ensuring that recommendations of the Panjwani Committee on cleaning the city's water bodies are implemented.
The panel will consist of former Karnataka Lokayukta Justice Santosh Hegde, Indian Institute of Science senior scientist TV Ramachandra, nominees of the state and central pollution control boards, and a nominee of the state's additional chief secretary.
The state has also been directed to transfer Rs 500 crore to an escrow account for executing the recommendations.
The Namma Bengaluru Foundation, which has been following the case, welcomed the NGT directives. "The NGT has come heavily on the Karnataka government over to its neglect, apathy and carelessness. The tribunal gave the government and city agencies enough time to come up with a plan to solve this fire-in-the-lake problem. Because they failed miserably, the court itself had to come up with a budgeting plan," said foundation member Suresh NR. "If the lakes are not rejuvenated even then, the officials concerned will be held accountable."
Discharge of industrial effluents and excessive use of household detergents is said to cause Bengaluru's lakes to froth.