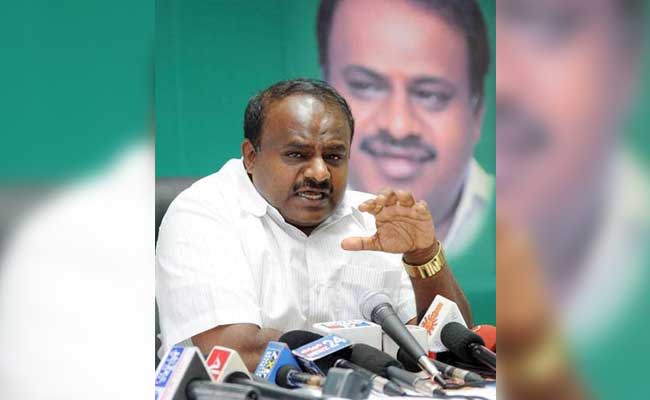 Highlights
Elections were held to 4 Rajya Sabha seats in Karnataka
Congress had fielded 3 candidates, but had enough votes to win 2 seats
BJP had fielded candidate for one seat
BENGALURU:
Despite a delay in the start of counting of votes - the Rajya Sabha elections in Karnataka went as expected - with the Congress winning 3 and the BJP 1 seat. Counting had started late after there was a wait for the Election Commission to clear the process because the opposition Janata Dal (Secular) had asked for the election to be cancelled.
Janata Dal (Secular) party leader and former Chief Minister HD Kumaraswamy claimed the two Congress lawmakers, one of them a minister, had voted against the party candidates but were forced to revise their vote. The Congress said they had made a "mistake" while filling the ballot paper and so were given a second chance.
Elections were held to four Rajya Sabha seats in Karnataka. A candidate needed 44 votes to make it through.
The Congress had fielded three candidates, but had enough votes to win two candidates - spokesperson L Hanumanthaiah and Naseer Hussain. With 32 extra votes - and the help of independents and seven rebel lawmakers from the JD(S) - the party took a shot at the third seat, fielding GC Chandrashekhar.
All three made it.
So did the BJP's Rajeev Chandrashekar, an Independent Rajya Sabha member who recently joined the party.
Mr Kumaraswamy's party, which only has 30 members in the 224-member assembly, had fielded BM Farooq.
The former chief minister's sharp protests through the day are being seen in context of the assembly elections to be held in early May.
Mr Kumaraswamy said Revenue Minister Kagodu Thimmappa and another lawmaker "wanted to vote against Congress for their conscience". But when the Congress counting agent, who had to be shown the ballot paper by party lawmakers, saw they had not voted for him, they were persuaded to get a new ballot paper and vote afresh, Mr Kumaraswamy said.
"The Returning Officer colluded with the government... We protest this and want the Election Commission to countermand the election process," Mr Kumaraswamy told reporters.
The Congress, however, said the two lawmakers had made a mistake and so asked for another ballot paper.