Belagavi/Karnataka:
Days after he courted controversy by saying the Karnataka assembly elections were not about development but "Hindu vs Muslim issues" in a widely circulated video, BJP lawmaker Sanjay Patil doesn't seem hesitant to talk along religious lines.
"If Ram mandir is not built in India, will it be built in Pakistan? When we say that we want to build Ram mandir, we are not saying we are against Muslims. India is a largely Hindu populated country. It has the highest number of Hindus in the world," Mr Patil who is running again for the Belagavi Rural seat told NDTV.
Last month,
the lawmaker had sparked massive outrage
after he was seen in a video saying, "This election is not about roads, water or other issues. This election is about Hindus vs Muslims, Ram Mandir vs Babri Masjid". A case has also been filed against Mr Patil.
His remarks were seen at cross purposes with what the BJP calls it
development agenda
, often repeated by the party's star campaigners.
BJP's chief ministerial candidate BS Yeddyurappa says the party does not approve of such remarks, nor does PM Modi.
"Repeatedly I have said, the Prime Minister is also angry about all these things... So we must take everybody together, Hindus, Muslims, Christians. When I was the Chief Minister, I never distinguished between Hindu, Muslim, Christian," he told NDTV.
The Congress candidate from Belagavi Rural, Lakshmi Hebbalkar, who is also the president of party's women's wing, says Mr Patil is missing the point.
"He was an MLA (lawmaker) for 10 years but he did not do any development work in our constituency. He never talks about development; instead, he is talking about Hindutva. However, the Hindutva issue will not fetch him votes," Ms Hebbalkar told NDTV.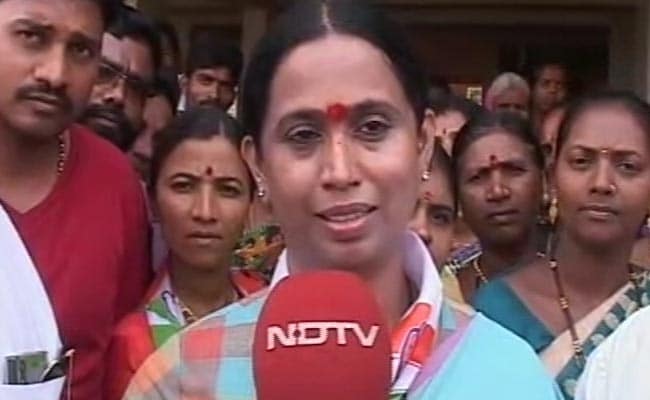 After widespread criticism, Mr Patil now says roads and drinking water do matter.
"I promise to provide good roads, drinking water and electricity. Despite having completed 60 years of Independence, our farmers are still committing suicide. We want to help the farming community," he said.
With barely 10 days to go before the
Karnataka assembly elections
, voters in Mr Patil's constituency say religion is not an issue that would influence their choice.
"We don't care if it's BJP, JDS or Congress. We just want development, education, water supply and cleanliness," said Riyaz Ahmed, a taxi driver.
In Delhi, the election commission said it won't tolerate hate speeches and provocative gestures.
"The Supreme Court has given a ruling last year that seeking votes in the name of religion, caste is a very serious thing and should be penalized. The Commission has taken a cue and is acting strongly," said Chief Election Commissioner OP Rawat.