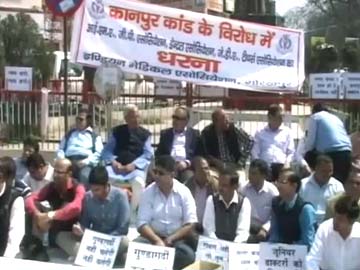 Kanpur:
A case has been filed against Samajwadi Party legislator Irfan Solanki, who was allegedly involved in clashes with doctors in Kanpur last week. Mr Solanki has been booked on charges of attempt to murder, rioting and voluntarily causing hurt.
A First Information Report or FIR was filed against Mr Solanki on a complaint made by Himanshu Kumar Singh, a medical student who was injured during the clashes on February 28.
Himanshu was arrested after the incident; he was released on Thursday afternoon after which he filed a complaint with the police, R K Chaturvedi, DIG, Kanpur Range, said.
The case was filed on a day when doctors in Uttar Pradesh, who were on protest demanding action against Mr Solanki, ended their six-day-long strike.
The strike was called off after the Allahabad High Court assured the doctors of time-bound probe into the incident.
On Friday last, Mr Solanki and his supporters allegedly accused doctors at Kanpur's Halet hospital of mistreating a patient. In the violence that erupted, the police used batons. 24 doctors were arrested. Their colleagues point out that no action was taken against the politician and his supporters.