Highlights
The wife of a rifleman was injured in the Sunjuwan army camp attack
The woman, who was pregnant, had suffered gunshot wounds
After undergoing treatment all night, she delivered a baby girl
New Delhi:
As soldiers fought to flush out terrorists who attacked the
Sunjuwan military camp
through Saturday night, just 10 km away, their colleagues at the Satwari military hospital were engaged in another battle. To save the lives of 11 people with gunshot wounds, all injured at the camp. Among them was Shahzada Khan, a 24-year-old pregnant woman shot in the back by terrorists.
On Saturday night, she gave birth to a daughter. "Both mother and baby are stable," the Army said. Also at the hospital is the young daughter of an Army officer and a 14-year-old boy who was shot in his head and is fighting for his life, the Army said.
The Sunjuwan camp of the 36th brigade of the Jammu and Kashmir Light Infantry, with 150 family quarters where soldiers stayed with their families, was attacked by four Jaish-e-Mohammad terrorists before dawn on Saturday. While most of the apartments were swiftly evacuated, 10 people were injured, among them six women and children. Five soldiers and the father of one of them were killed in the attack.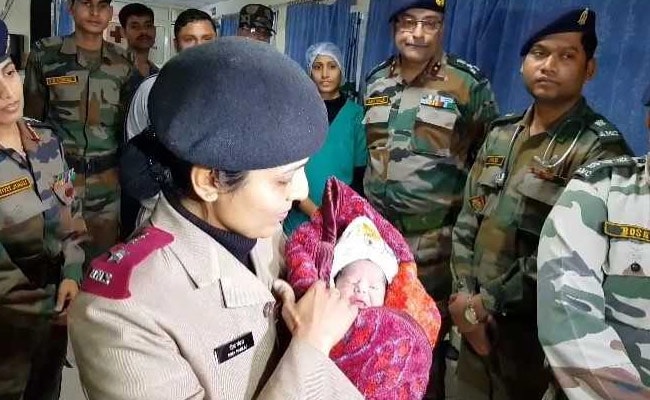 Shahzada Khan, 35 weeks pregnant, was airlifted by helicopter from the camp to the military hospital, where the Army said its doctors worked through the night to save her life and that of her child. Her husband, Rifleman Nazir Ahmed, too is injured with gunshot wounds and is admitted at the hospital. Shahzada Khan gave birth to a 2.5 kg baby, delivered by caesarean section.
The terrorists, heavily-armed men dressed in fatigues, had tried to sneak in through the rear gates of the camp on Saturday. But after the sentries posted there challenged them, they opened fire. Following a short gun-battle, they managed to enter the complex, the Army said.
One of the soldiers killed, Subedar Madan Lal Chaudhury, took on the terrorists with bare hands and was shot multiple times. He died but his family was evacuated. Subedar Chaudhury and Subedar Mohammad Ashraf Mir were killed on Saturday. Three more soldiers, Havaldar Habib-Ullah Qurashi, Naik Manzoor Ahmed and Lance Naik Mohammad Iqbal, died while battling the terrorists and evacuating people at the camp. Lance Naik Iqbal's father, in his 70s, was also killed in the attack.
All four terrorists were killed by Sunday evening and the Army launched a "clearing" operation to ensure there were no more terrorists hiding in the complex. The terrorists, the police said, had carried AK-56 rifles, under barrel grenade launchers and ammunition.