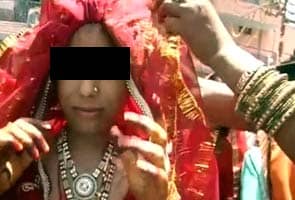 Jaipur:
A 16-year-old-girl in Rajasthan has rejected her child marriage that took place when she was only a-year-old. The girl was not aware of this, till the time her in-laws approached her family to take her to their house a few days back.
The Rajasthan girl now wants that marriage annulled and freedom of choice to be educated and working restored to her.
"Child marriage is illegal as per the law, I have sought help from an NGO. I have been told to seek legal remedy under section 10 of the Hindu Marriage Act, 1956," said the girl, a resident of Luni town in Jodhpur district, some 400 km from the state capital.
The issue of her child marriage has come to the fore because her in-laws wanted her to move in on April 24, the auspicious day of Akshaya Tritiya, also known as Akha Teej, when Goddess Lakshmi is brought home.
"I was recently told by my elder brother Hanuman that I had been married when I was an infant. I was quite shocked. He told me that I was married to one Rakesh three days after the death of my grandmother in 1996 with the consent of elders in my family," the 16-year-old told media persons.
She said her so-called in-laws were now pressurising her maternal family to send her to them as their bahu (daughter-in-law).
"As per the local tradition that is called gauna, I am now being forced to stay with my in-laws. I had been living with my brother for the past 16 years," the girl said. As per the gauna tradition followed in some rural areas of Rajasthan, girls are married off in childhood, but sent to live with their in-laws later when they enter their teens.
The ambitious girl would have none of it, however. She wants to pursue studies. "I will complete my graduation and then would like to work," she said.