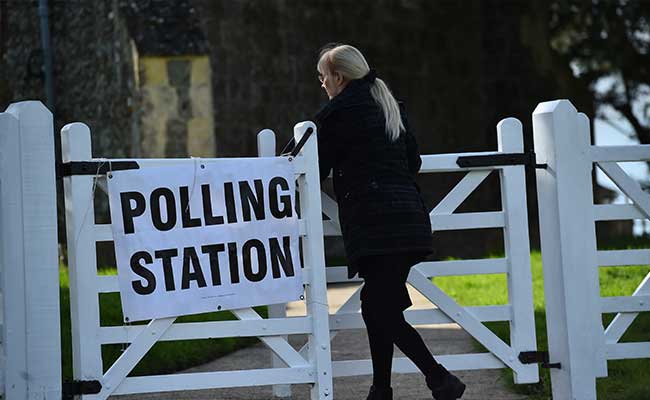 London:
Over 50 candidates of Indian origin are contesting in the today's British general election, the outcome of which should be known by Friday morning.
Those in the fray include Sajid Javid, who is half Indian, of the Conservative party. He has been a cabinet minister for culture, media and sport in the government. He is standing from Bromsgrove.
Also fighting from his old seat of Leicester East is Keith Vaz of the Labour party who is the senior-most of Indian-origin MPs and has been a member of the House of Commons from 1987, not to mention his sister Valerie Vaz, also a Labour candidate.
Besides, junior ministers in the Conservative party-Liberal Democrat coalition led by Prime Minister David Cameron, Shailesh Vara (North West Cambridgeshire) and Priti Patel (Witham), both Conservatives, are also seeking re-election among the 10 sitting MPs of Indian descent.
Among the incumbents, Paul Uppal, Conservative, is facing a tough challenge in his constituency of Wolverhampton South West.
The same is true for Alok Sharma, also a Conservative, in Reading West; but he has slightly better chance of pulling it off.
It is not an easy ride for Valerie Vaz in Walsall South, either; but she has a fair chance of winning.
Among the newcomers, Rishi Sunak, Conservative and son-in-law of Narayana Murthy, founder of Infosys, is almost certain to triumph in Richmond, Yorkshire. He was selected to replace William Hague, until last year the British foreign minister who is retiring from the Commons.
Pramod Subbaraman, a Liberal Democrat, is a first time candidate in Edinburgh South, a seat held by his party. But the strong swing in favour of the Scottish National Party in Scotland has made it an uphill task for him.
Three others have an outside chance of crossing the line - Ms Purna Sen of Labour in Brighton Pavilion, Amanjit Jhund also of Labour in Dunbartonshire East and Douglas Hansen-Luke, Conservative, in Walsall North.
In a best case scenario there could be as many as 15 Indian-origin MPs in the next House of Commons. The likely result, though, could be around 10-12 MPs.
Meanwhile, Pakistani-origin MPs numbered seven in the outgoing house. This could increase to double figures in the next Commons.
The tally of Bangladeshi-origin MPs could treble. Sitting candidate Ms Rushanara Ali of Labour is strongly placed to prevail in Bethnal Green and Bow in east London. Ms Rupa Huq, also Labour, has an outside chance in Ealing Central and Acton in west London; while Ms Tulip Siddiq has an even better chance in Hampstead and Kilburn in north-west London.
Siddiq is a grand-daughter of Bangladesh's founder Sheikh Mujibur Rahman and a niece of present Bangladeshi Prime Minister Sheikh Hasina.