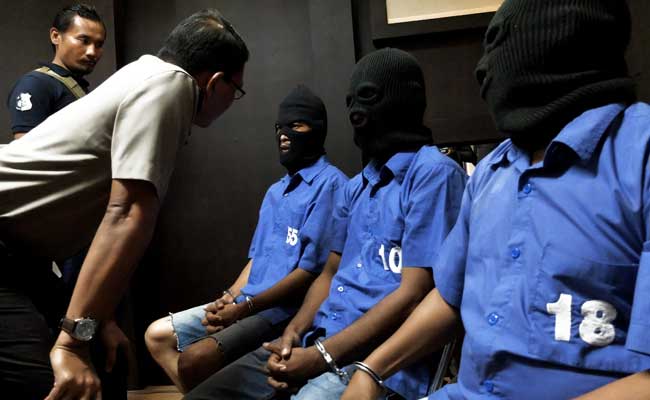 Highlights
Gurdip Singh from Punjab among 14 death row convicts in Indonesia
4 executed, others including Gurdip would face death later: officials
India talking to Indonesian officials in attempt to save him
Cilacap/New Delhi:
Indian convict Gurdip Singh was spared at the last minute when Indonesia on Thursday executed four persons, including three foreigners, for drug crimes. Officials did not give a reason for the reprieve but said 10 more convicts would be executed later.
Big relief flooded Mr Singh's family in Punjab's Jalandhar after the 48-year-old spoke to his wife Kulwinder Kaur on the phone and told her that he was hoping to be saved.
Foreign Minister Sushma Swaraj has assured the family that she is doing her best to save him.
Indian Ambassador in Indonesia has informed me that Gurdip Singh whose execution was fixed for last night, has not been executed.

— Sushma Swaraj (@SushmaSwaraj) July 29, 2016
Four executions went ahead on a remote prison island in Indonesia despite strong protests from international rights groups, UN Secretary-General Ban Ki-moon and the European Union.
As questions swirled around the handling of the process, Deputy attorney general Noor Rachmad said 10 more executions "will be carried out in stages", but the timings had not yet been decided.
Mr Singh was convicted in 2004 on charges of drug smuggling. Duped by an agent into paying for what he believed was a work visa in New Zealand, he was allegedly abandoned mid-journey in Indonesia.
When he phoned his family before the scheduled execution, he had believed it to be his last.
"We got a phone call from my father, he told me that he has lost all hope and now his dead body will return," said his daughter, Manjit Kaur, who was barely three years old when Mr Singh migrated from India.
New Delhi has said that Mr Singh has the right to appeal to the President of Indonesia for clemency. "Our officials have met Gurdip Singh and the embassy has asked the government of Indonesia to look at all legal options," said Foreign Ministry spokesperson Vikas Swarup yesterday.
Last night's executions were the first in the country since April last year when authorities put to death eight drug convicts, including two Australians.
President Joko Widodo has defended dramatically ramping up the use of capital punishment, saying that Indonesia is fighting a war on drugs and traffickers must be heavily punished.