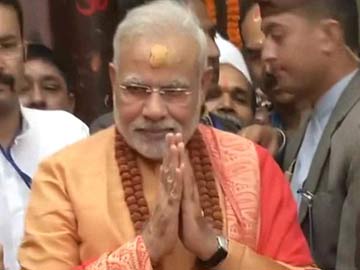 Kathmandu:
Prime Minister
Narendra Mod
i prayed this morning at the famous Pashupatinath temple in Kathmandu. He sanctioned 25 crores to build a 'dharamshala' at the major Hindu landmark and offered 2,500 kg of sandalwood at the temple built for Lord Shiva. (
Watch
)
Wearing a saffron coloured
kurta-pyjama
with a shawl draped on his shoulder, the PM visited the temple before meeting with Nepalese President Ram Baran Yadav, who paid him this compliment - "You have won our hearts with your speech at the Parliament yesterday."
(Nepal Enthralled by Visit of India's Prime Minister, Who Hits 'the Right Notes')
Mr Modi is on a two-day trip to Nepal, the first bilateral visit to the country by an Indian prime minister in 17 years, though Indian leaders have routinely attended regional summits in Kathmandu. (
In Pics: PM Modi's Nepal Visit
)
The PM has
offered Nepal $1 billion in concessional loans
to help build power plants and roads. "Nepal needs highways, information ways and transmission ways. India will support you in all these," he said in his address to the Nepali parliament where he announced the $1 billion credit line for the landlocked nation. (
PM's Speech in Nepal's Parliament: Highlights
)
His agenda includes speeding up negotiations on a power trade pact that is at the centre of a new effort to improve ties with a neighbour that serves as a buffer with China. Negotiators were trying to narrow down differences over the power pact aimed at harnessing Nepal's estimated 42,000 MW hydro-electric potential to meet domestic needs and also supply India's giant energy-starved economy.
Since becoming Prime Minister in May, Mr Modi has sought to shore up support among smaller countries in the region that have in recent years turned to China for quick implementation of energy and transport projects.
Nepal's politicians are at odds over the proposed energy pact. Opponents say it would give Indian firms a stranglehold over Nepal's energy resources and bar other countries, like China, from investment in the sector.
Get Breaking news, live coverage, and Latest News from India and around the world on NDTV.com. Catch all the Live TV action on NDTV 24x7 and NDTV India. Like us on Facebook or follow us on Twitter and Instagram for latest news and live news updates.