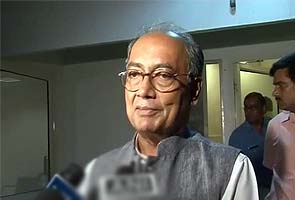 New Delhi:
Congress leader Digvijaya Singh has inveighed against Arvind Kejriwal without much restraint.
"My opinion about you of a well-meaning crusader of public issues has now changed to a self-serving ambitious megalomaniac with scant regard for democracy," Mr Singh writes in a letter sent today.
He says that he will today pose a series of questions to Mr Kejriwal, who has launched a political party this month with the putative agenda of cleansing government departments of corruption.
In the last few days, Mr Kejriwal and his supporters - members of the civil society group India Against Corruption - have shared documents that highlight allegedly illicit deals struck by politicians to favour their own businesses or those linked to their families.
"I have been seeing you asking questions to people against whom you are making allegations. Therefore, I also have certain questions to ask to you," Mr Singh said in his note. He adds, "My only advice to you as a senior politician is to 'first practice, then preach'." Mr Singh reiterates in his note that Mr Kejriwal had asked to be appointed to the National Advisory Council or NAC, headed by Sonia Gandhi, which serves as a powerful liaison group between civil society and the government. The Congress leader says that Mrs Gandhi turned down his suggestion to include Mr Kejriwal in that committee.
However, Mr Kejriwal has denied the charges made by Mr Singh in his letter.
(Read: Kejriwal hits back)
He says that he agrees with former cop and lawyer-activist YP Singh, who said at a press conference on Thursday, that Mr Kejriwal has shades of Hitler. "When YP Singh (Retd IPS), your former colleague in civil society movement, called you a Hitler, I could see the streak in you," Mr Singh declares.
Mr Kejriwal together with Gandhian Anna Hazare championed a movement demanding the introduction of a new anti-corruption law. The draft legislation - called the Lokpal Bill - has been stalled in Parliament. Anna, who is widely respected as an activist, has been estranged from Mr Kejriwal since the latter decided to launch a political party and contest elections.
Mr Kejriwal and his as-yet-unnamed party have levelled corruption charges against Law Minister Salman Khurshid, BJP president Nitin Gadkari, and Robert Vadra, who is Mrs Gandhi's son-in-law. Both the Congress and the BJP have accused him of making up graft charges to gain publicity for his new party ahead of elections in states like Gujarat and Himachal Pradesh.