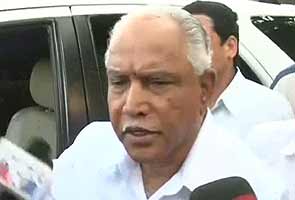 Bangalore:
After Gujarat Chief Minister Narendra Modi upstaged all else on Day 1 of the BJP's national executive meet, Day 2 saw the strategic arrival of former Karnataka chief minister BS Yeddyurappa. The BJP strongman, who has been in a deep sulk with his party leadership for "sidelining" him, landed in Mumbai this morning with a promise that he "will not demand any post" for himself.
"Our aim is to build the state. I am not going to demand any post for me. I want to focus on the development of my state. I want Karnataka to be the number one state in the country," Mr Yeddyurappa said while talking to reporters at the airport.
"I am here to attend the national executive meeting. I am the member of the national executive for the past 25 years," he added. When asked about the reason for his absence yesterday, he only said this: "I was not able to attend the meeting yesterday, but today I will."
Mr Yeddyurappa had earlier announced that he would skip the important Mumbai meet, ostensibly because of a court hearing. The Karnataka strongman believes his party has failed to give him his due by ignoring his demand to be reinstated as Chief Minister of Karnataka despite a series of corruption cases.
Mr Yeddyurappa changed his mind after another leader from his party, Mr Modi, arrived in Mumbai half-way into the first day of the BJP meeting. Mr Modi too had earlier boycotted the meeting reportedly because he was upset that his old rival, Sanjay Joshi, would be present there. The Gujarat CM had orchestrated a trip to Rajasthan as a form of boycott. Hours before the meeting began, Mr Joshi resigned as a member of the BJP national executive, and Mr Modi sent word that he was going to Mumbai after all.
In the resignation letter that Mr Joshi sent to Mr Gadkari, he reportedly said he does not want to be the reason for dissent or division in the party. Sources however say Mr Joshi was asked to quit after pressure from the BJP's Gujarat unit, who had said they would follow Mr Modi's lead and skip the meeting.
The resignation of Mr Joshi is being seen in political circles as a big setback for Mr Gadkari, who had hand-picked Mr Joshi for an important charge in the UP election campaign, after six years of political exile over a seedy CD scandal.
But sources say Mr Gadkari has found a way to keep Mr Joshi around. With an intention to send a signal that that Mr Joshi is crucial, the BJP president has reportedly asked him to manage his poll campaign. Mr Gadkari will be contesting from Nagpur for a Lok Sabha berth for the first time in 2014.
The BJP national executive approved an amendment to the party constitution yesterday paving the way for that second term for Mr Gadkari, but the Modi-Joshi episode proved that the BJP president, who had re-inducted Mr Joshi, an old RSS hand, into the party only months ago, remains at odds with other senior leaders of the BJP. This is the third time in recent months that the party chief has had to step back on his decision because of pressure from senior party leaders. There has reportedly been serious opposition to a second term for him from top leaders in the party, including veteran LK Advani.
As he left Bangalore this morning, Mr Yeddyurappa said he was going to Mumbai to congratulate Mr Gadkari for getting a second term as BJP president. "People of Karnataka, have great respect for Gadkariji and he has stood by me like a rock so I'm going to congratulate him," he said.
When he arrived at the Mumbai airport, Mr Yeddyurappa was asked about his opinion on Narendra Modi as BJP's prime ministerial candidate. "The entire country wants Narendra Modi to be the future Prime Minister," was his quick reply. "People's verdict is important and the public wants that Narendra Modi should be projected as the prime ministerial candidate," he added.
It was important for the BJP to have its biggest leaders present and seemingly unified at the Mumbai meeting that was held to finalise the party's strategy for the July elections that will decide who becomes the next President of India. With the general elections just two years away, the BJP also wanted to blueprint its plan of attack against the Congress-led government at the Centre. Most importantly, the party had to prep for Assembly elections in Gujarat and Himachal Pradesh later this year. The BJP rules both those states and must retain them in the run-up to the 2014 General Elections.
But just as all the pieces seemed somehow in place at the important meet, the BJP's show of unity is coming undone again. Party patriarch L K Advani has reportedly refused to stay back in Mumbai after the meeting for a key party rally where all BJP chief ministers will be present in a show of strength. And senior leader Sushma Swaraj will also skip the rally. Both Mr Advani and Ms Swaraj are reportedly among several top BJP leaders who are opposed to a second term as BJP president for Mr Gadkari. Hence, there is disquiet at their decision not to attend the rally. The party however is officially trying to play down their absence.