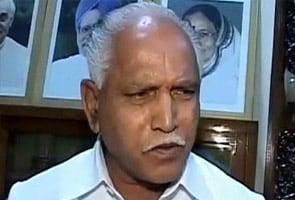 Bangalore:
Karnataka Chief Minister BS Yeddyurappa has reportedly asked Governor HR Bhardwaj to turn down a demand by a lawyers' forum for his prosecution in connection with alleged land scams.
In a letter written to the Governor Yeddyurappa has said, "It would be nothing short of a farce and a colourable exercise on the part of Your Excellency to even consider any sanction for prosecution."
He added that such a decision would not be fair as the state government has already appointed an independent judicial commission of inquiry to probe land dealings from 1995 to 2010.
An emergency Cabinet meeting chaired by Yeddyurappa passed a strongly worded unanimous resolution to this effect, a day after the Governor, who is often at odds with the government, said he has been studying a request by a lawyers' forum seeking permission to prosecute Yeddyurappa and Home Minister R Ashok in alleged land scams.
"It is under consideration. There are so many angles. It is a very ticklish issue", Bhardwaj had said.
Briefing reporters after the Cabinet meeting, the second since Tuesday, Law Minister Suresh Kumar said the resolution noted that "neither any investigating agency nor any Commission of Inquiry has indicted the Chief Minister or the Home Minister."
".. Hence your intended exercise of the power to process the request for sanction is wholly without jurisdiction", the resolution said.
Over the last few months, Opposition parties in the state have devoted considerable time and effort in circulating documents that suggested Yeddyurappa had favoured his family members by giving them prime property in and around Bangalore at bargain prices. (With PTI Inputs)