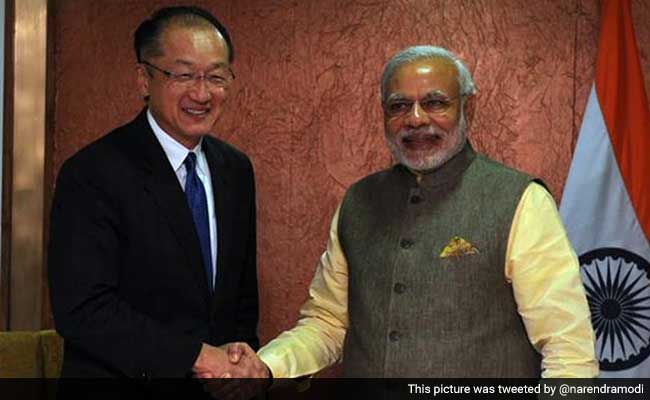 Washington:
The World Bank chief Jim Yong Kim today said that the "strong visionary leadership" of Prime Minister Narendra Modi has resulted in "extraordinary effort" by India on financial inclusion of its people.
The World Bank in a report released this week said by January 2015, 125 million bank accounts had been opened under the Pradhan Mantri Jan Dhan Yojana launched in August 2014 for comprehensive financial inclusion with the goal of opening a bank account for every household in India.
As a point of comparison, a 2013 survey had found that fewer than 400 million people in the country had an account, the World Bank said in a report.
"This is an extraordinary Indian effort," Dr Kim said at a panel discussion here organised on the sidelines of the annual Spring meeting of the International Monetary Fund and the World Bank.
Dr Kim attributed this to the "strong visionary leadership" of Prime Minister Modi and the Reserve Bank of India Governor Dr Raghuram Rajan.
Dr Kim also said access to financial services can serve as a bridge out of poverty.
"We have set a hugely ambitious goal - universal financial access by 2020 - and now we have evidence that we're making major progress," he said.
"This effort will require many partners - credit card companies, banks, micro credit institutions, the United Nations, foundations, and community leaders. But we can do it, and the payoff will be millions of people lifted out of poverty," he added.
Participating in the panel discussion along with Master Card CEO Ajay Banga, State Bank of India (SBI) Chairman Arundhati Bhattacharya briefed the audience on the successful efforts of the SBI in implementing the Jan Dhan Yojana.
"Forty-nine per cent of the accounts under Jan Dhan Yojana are being held by women," Ms Bhattacharya said.
The World Bank Group and a broad coalition partners including multilateral agencies, banks, credit unions, card networks, micro finance institutions and telecommunications companies today issued numeric commitment that would help promote financial inclusion and achieve universal financial access by the year 2020.