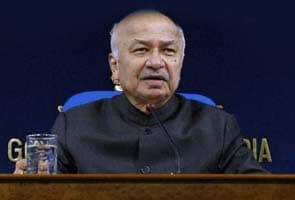 New Delhi:
By accusing the opposition BJP and its ideological mentor, the RSS, of promoting terrorism, the Home Minister has delivered a scaleable controversy.
"The BJP will not tolerate this repeated insult of Hindu and saffron traditions of India," said BJP spokesperson Ravi Shankar Prasad, reiterating his party's demand for an apology and the dismissal of Home Minister Sushil Kumar Shinde. "He is a light-weight Home Minister making lightweight remarks, but since he spoke in the Prime Minister's presence, it has to be taken seriously," Mr Prasad said, adding that since Mr Shinde is the Leader of the House, his comments could seriously damage the government's fragile relationship with the opposition in Parliament.
Yesterday, Mr Shinde said at a Congress meeting in Jaipur, "We have got an investigation report that be it the RSS or BJP, their training camps are promoting Hindu terrorism. We are keeping a strict vigil on all this."
The RSS said today that his comments have made the minister "a darling of terrorists." The RSS and the BJP say that the Home Minister's remarks allow Pakistan and terror groups based there to pass the buck for attacks in India. Validating their concern, the mastermind of the 26/11 attacks in Mumbai, Hafiz Saeed, said today that the Home Minister has exposed the Indian "propaganda" of blaming Pakistani groups for strikes in India.
RSS spokesperson Ram Madhav tweeted this morning, "It is Shinde who is helping our enemies by such statements. Now even LeT (terror group Lashkar-e-Taiba) welcomed his statement I am told."
Right-wing extremist groups are being investigated for possible involvement in two terror attacks in the communally-sensitive town of Malegaon in Maharashtra in 2006 and 2008 and bomb blasts in 2007 on the Samjhauta Express, a train headed from Delhi to Pakistan, in which nearly 70 people were killed.