New Delhi:
At a time when the country's premier National Investigation Agency or NIA is receiving flak about towing the government line in numerous terror related cases, Home Minister Rajnath Singh on Tuesday said that the agency is an autonomous body and that the government does not give it directions related to any cases.
"Earlier all NIA files were routed through the Home Ministry but now, after I took over as the Home Minister, I made such provisions that the agency can take its own decisions as it is autonomous," Mr Singh said while addressing a gathering of NIA officials.
However, NIA's Director General-designate YC Modi, who will assume charge later this month, said the agency will seek guidance from the ministry.
"We will work in accordance with the ministry and not disappoint the government," he said while offering vote of thanks at a function.
The NIA director general-designate's comments came after the home minister complimented outgoing chief of the NIA, Sharad Kumar, for the achievements of the investigation agency.
"The NIA has established its credibility and impartiality in last eight years through professional and scientific investigation," the home minister said.
Rajnath Singh also complemented the NIA's role in curbing terror acts in the country. "Gathering evidence in such cases is challenging job but in 95 per cent cases, probed by the NIA, the accused got convicted," he added.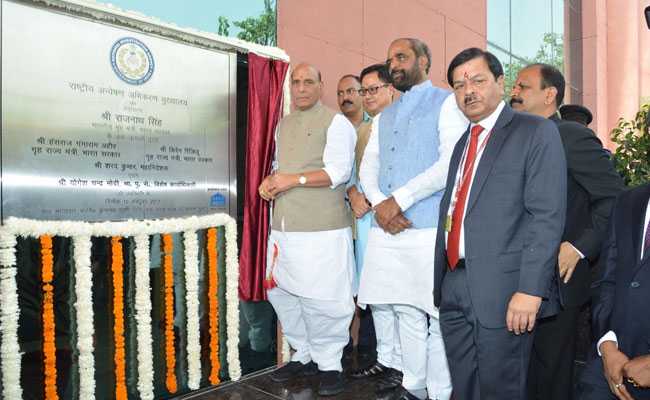 However, the designate chief's comments baffled many. "I will live up to your expectations, I will not let you down," he said.
YC Modi, a 1984 batch IPS officer of the Assam-Meghalaya cadre, would assume charge as Director General of the NIA on October 30.
Recently, Mr Modi's appointment had raised eyebrows because he was a part of the Supreme Court-appointed Special Investigation Team that probed the 2002 Gujarat riot cases.
He also probed the controversial murder of senior Gujarat BJP leader Haren Pandya. Haren Pandya's father Vithalbhai had died demanding justice in his son's assassination which he and Haren's wife both had described as a "political murder".
Haren Pandya's wife Jagruti has now joined the BJP and is seeking an assembly ticket.
He investigated the three most important cases involving the post-Godhra riots: Gulberg Society, Naroda Patiya and Naroda Gam.
Get Breaking news, live coverage, and Latest News from India and around the world on NDTV.com. Catch all the Live TV action on NDTV 24x7 and NDTV India. Like us on Facebook or follow us on Twitter and Instagram for latest news and live news updates.