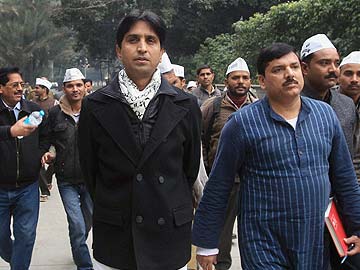 New Delhi:
Kumar Vishwas of the Aam Aadmi Party (AAP) today said that he will win, not just contest, the parliamentary election from Amethi, which has chosen Congress vice-president Rahul Gandhi as its representative for the last nine years.
"Let Rahul Gandhi, Modi and me contest from Amethi and see who wins," Mr Vishwas said. The 43-year-old is a Hindi poet. His website describes him as "an iconic blend of a Performing Poet, an Author, a Social Communicator and a Motivator."
Sandeep Dikshit of the Congress suggested Mr Vishwas' ebullience may be misplaced. "Whoever wants to contest, let them...anyone who wants to lose from Amethi is welcome to contest the election."
After his party's spectacular debut in the Delhi elections, Aam Aadmi Party chief
Arvind Kejriwal
had announced that his year-old party would also contest the national elections.
Mr Vishwas doesn't just want to take on Mr Gandhi in Amethi. He would like the BJP's prime ministerial candidate to join the line-up.
"I want to tell
Narendra Modi
that he should stop speaking about Rahul Gandhi for 50 minutes in his one-hour speeches. If he really wants to end Gandhi's stint from Amethi, then let him contest from Amethi. Let Rahul Gandhi, me and Modi contest from Amethi," he told reporters.
He also issued a warning for Mr Gandhi.
"I have got information that Rahul Gandhi may contest from some other constituency, I have decided that I will also contest from the very seat from where Rahul Gandhi will fight the upcoming elections," Mr Vishwas said.
When asked why he believes he can defeat the Congress vice-president, Mr Vishwas had a list of reasons.
"Rahul Gandhi cannot hide the 10 years of Congress misrule by rolling up his sleeves and tearing a few pieces of papers. He has not asked a single question in Lok Sabha, he was never in the picture whenever an important issue like Lokpal or women's security was in the limelight," he said.