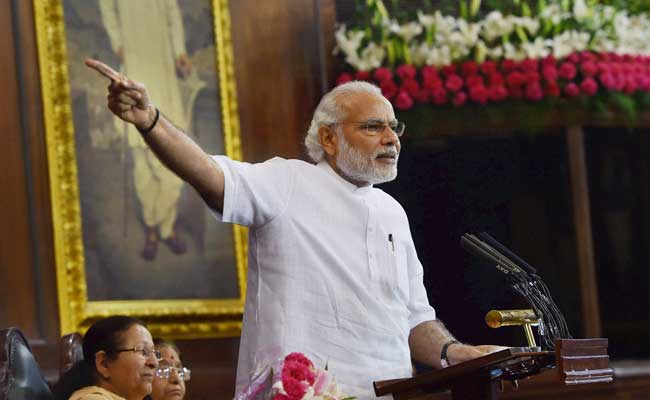 New Delhi:
Women should empower themselves technologically and become effective as people's representatives as mere changes in the system would not suffice, Prime Minister Narendra Modi said today but remained silent on the Women's Reservation Bill for which the President and the Vice President had made a strong pitch yesterday.

Insisting that "mere change in system" would not suffice, he said "some changes in structure keep on happening" and stressed the need for women leaders to empower themselves technologically and make effective interventions.

"You will have to make yourself effective. You will have to present issues with facts and figures. Merely changes in the system will not suffice. Some or the other change keep happening in the structure. In order to establish your leadership, you should have the knowledge of subjects.

"...Try to develop your independent image as a public representative. Make an attempt that you have your own image in your region. Once the image of your working style and your views is established among people, it will last for long. You will see people accepting your ideas once you are thus established," PM Modi said at the National Conference of Women Legislators in New Delhi.

The prime minister said "we must think beyond women's development" and move towards "women-led development."

Inaugurating the conference yesterday, President Pranab Mukherjee pitched for 33 per cent reservation for women in elected bodies saying it was a "sad commentary" that so far the country has not been able to achieve over 12 per cent representation for women in Parliament's total membership.

Vice President Hamid Ansari had also asked parties to voluntarily increase the nomination of women candidates in elections till the legislation is enacted.

However, the prime minister today skipped any mention about the bill but focussed on larger issues of attitudinal change and the need for women promoting women leadership in different spheres.

In his speech, he called upon women leaders to groom female leadership down the rung, overcoming "jealousy" due to competition.

"Politics is a game of competition but when the feeling of jealousy dominates in competition, then you cannot grow. If you start feeling that what will happen to you if more talented women come in your field, or if your attempt is that I am there and will not allow anybody else to progress.

"Rather if you allow others to come up, you will go high. A kind of pyramid-like structure comes up then," the prime minister said.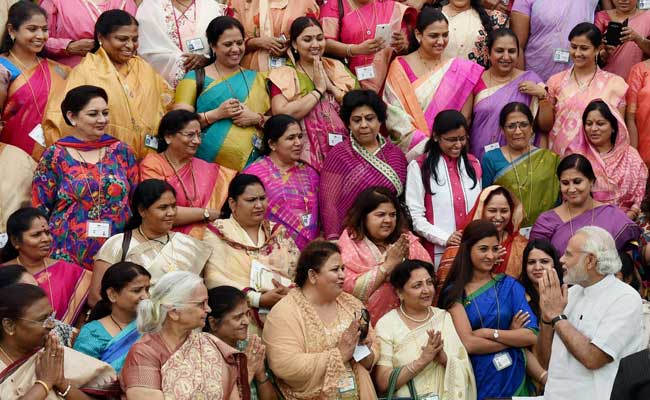 Observing that only budgets and infrastructure do not strengthen nations, the prime minister said every citizen of India strengthens the nation like a Mother gives strength to a child.
Lauding the ability of women to rise if given an opportunity, he said, "We had had many a Foreign Minister in last so many years but we do not even remember their names. Everybody knows about the outstanding work of Sushma Swaraj.
"All women Speakers in Lok Sabha have done good work. The success of women is better than men when they are given opportunity," he said, citing the role of women in reshaping African nation Rwanda whose Parliament has 65 per cent women.
PM Modi also chose the occasion to flag that his government was the first in which there were so many women ministers.
He also asked whether the two Houses of Parliament could have an e-platform for women members to exchange views.
"Nobody else can empower the nation as much as a mother does to her child," PM Modi said, emphasising the need to take "pride" in this and adding that "inferiority complex" does not help anybody rise.
Giving anecdotes, the Prime Minister hailed virtues of patience and tendency among women to make sacrifices for her husband and children.
Maintaining that women can adapt to new technologies faster than men, he said even illiterate women know how to handle gadgets with new technologies in the kitchen.
Asking women legislators to play an effective role in law-making, he said that women foresee challenges and problems much better than men and hence should suggest changes which they feel are necessary when legislations are enacted.
Seeking their increased contribution in strengthening the nation, PM Modi stressed "there is a need to change this mental state about women empowerment. Empowerment is done for those who are not empowered. What does the empowerment of those who are already powerful mean?
"Who are males to empower women? We do not realise our powers till we do not face challenge," the Prime Minister said adding that "women have much more inherent strength than men which they reflect in meeting the odds in family life and social life".
PM Modi asked the women lawmakers whether they have empowered other women public representatives under them.
"Can you do any such exercise in your Parliamentary or Assembly seat what the Speaker has done here? There should be no politics in it. Members of all parties are here. The Committee set up by the Speaker for this programme has members from all parties," he said.
The prime minister urged women legislators to engage with their constituents by using technology and spoke of his own experience in this regard, saying he has been receiving enriching thoughts and views through the MyGov platform and Narendra Modi App.
The prime minister said multi-tasking, an important element of modern-day management, comes naturally to women in India and urged the women legislators to engage with their constituents using technology.
"In addition to structural component of programmes like this, experiences shared during personal meets, over tea, meals are invaluable," he said.
PM Modi had last week launched a blistering attack on Congress vice president Rahul Gandhi and Congress accusing them of stalling Parliament because of "jealousy" and "inferiority complex". He appeared to take the theme further today suggesting such feeling is a hindrance in the development of women leadership.
Former president Pratibha Patil said women in legislature should fight "money and muscle power" which have found a place in the parliamentary process of the biggest democracy in the world.
"When we talk about women participation. There is a talk about the need for a change in mindset. But this will take a long time. From the very beginning, our children must be taught that men and women are equal," she said.
Ms Patil chose the occasion to pitch for "Gender Budgeting" saying the women legislators should see what money is spent on women's welfare.
Lok Sabha Speaker Sumitra Mahajan expressed happiness that while males spoke about the empowerment of women, women legislators discussed their role in empowering the nation.
The conference, which was also attended Speaker of the Bangladesh Parliament, Shirin Sharmin Chaudhury, also saw a suggestion to organise a similar conference at the Asia level.
The meet with the theme, 'Role of Women Legislators in Nation Building organised by Lok Sabha Speaker Sumitra Mahajan was attended by women lawmakers from across the country.
The conference also passed a resolution to work for transparent, accountable and inclusive governance and to contribute to the task of building a Resurgent India, strive for social and financial inclusion with a view to ensuring equal opportunities to all.
Recognising the vital role of legislators especially women in strengthening the processes of governance towards building a Resurgent India, it emphasised that India has made notable progress in social and economic development.