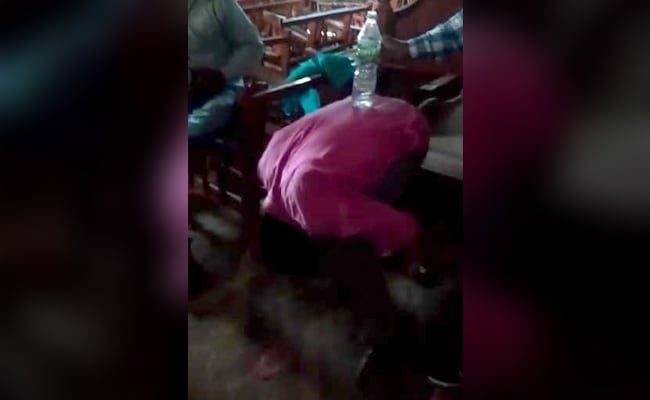 Highlights
Video of her father bending down with bottle on his back went viral
The woman is recovering in a hospital
BJP said it will investigate and take action
Jabalpur:
A 20-year-old woman in Madhya Pradesh attempted suicide on Saturday after a video of her father bending down with a bottle of water on his back went viral. The head of the BJP minority cell in Jabalpur had allegedly forced the man to bend down and shot at least three videos that were shared on WhatsApp.
In the clip, Mohammed Shafique alias Heera is seen harassing the victim and also threatening him for speaking against him following a financial dispute.
The woman is recovering in a hospital. Her mother said she took the extreme step after watching the video in her college. "After she returned home in the evening, she consumed some poisonous substance. We want the police to arrest these men and take strict action."
She added that they held her husband captive for 2-3 hours near Raddi Chowki area on Monday and then released the video.
Congress chief spokesman KK Mishra has demanded strict action against the BJP leader. He said, "The issue is related to political chaos because of which a daughter has attempted suicide."
Bharatiya Janata Yuva Morcha's (BJYM) vice president and BJP spokesperson Rahul Kothari also took notice and said, "We will investigate and take necessary action. There is no place for such a worker in BJP."
Rameshwar Rajbhar, investigating officer, has said, "A complaint was received from Midas Hospital that a girl had consumed poison. When our officers went to meet her, she was not in a condition to talk to us. We are investigating the matter and will act as per the evidence."
A few days ago, BJP leader and a minister Rajendra Namdeo was arrested for allegedly molesting and attempt to rape a woman. He was later suspended from the party and the government also issued an order to remove him as the vice president of MP Silai Kadai Board, which gave him the status of a Minister of State.