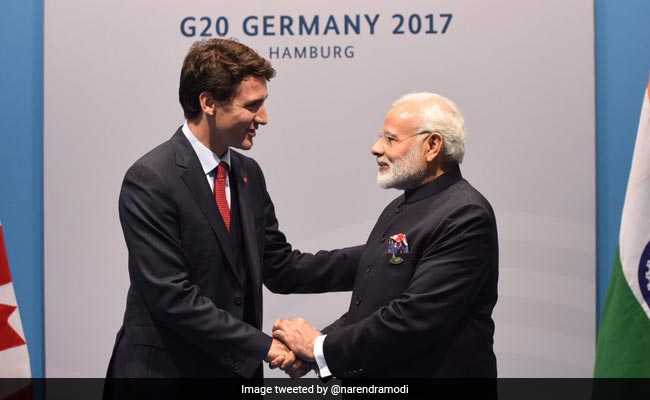 New Delhi:
With an "aim to further strengthen bilateral relations" Canadian Prime Minister Justin Trudeau will be on a state visit to India from February 17 to 23. This would be Mr Trudeau's second meeting with Prime Minister Narendra Modi in six months. The two leaders had last met on the sidelines of the G20 in Hamburg in Germany in July 2017, where they discussed longstanding relationship based on shared culture of democracy.
Trade tops Mr Trudeau's list, and there are areas of mutual interest, including education, infrastructure, skill development and space. The Indian and Canadian Prime Ministers will also discuss security issues and counter terrorism.
The ties between the two nations witnessed an upswing in 2013, with the signing of India-Canada Nuclear Cooperation Agreement and Canada acknowledged India as a responsible nuclear power. Canada, in the 70s, had stopped exports of uranium and nuclear technology, alleging India used their technology to build a nuclear bomb.
In November last year, the trade ministers and delegates of India and China met to thrash out sticking issues on free trade agreement. While India is looking to create more jobs for software professionals in Canada and easier visas, Canada wants to expand its exports to India - particularly pulses and food items.
At present, the two-way merchandise trade between Canada and India is around $8 billion. Canadian investments in India have increased by over $15 billion over the past three years mainly through institutional investors. Canada is also a leading education destination for Indian students; in 2017, approximately 1,24,000 Indian students have been given study permits in Canadian universities.
Canada said Mr Trudeau's visit will focus on "strong people-to-people contacts" of the two countries. Canada is home to a large Indian diaspora and Mr Trudeau in his government has a number of Indian origin Canadians holding key offices. Currently the Trudeau cabinet has five persons of Indian origin, including Mr Harjit Sajjan, the first Sikh to be appointed as Canada's defence minister.
In April 2015, during PM Modi's visit to Canada, then Prime Minister Mr Stephen Harper described India and Canada as "natural partners in a new global economy". During that visit, PM Modi had addressed a large gathering of Indians in Vancouver, where he said he hoped that his visit will "herald the beginning of a new partnership".
The optics go beyond trade and strategic ties. In June 2017, when the Indo-Canadian pair of Rohan Bopanna and Gabriela Dabrowski won the mixed doubles event of the French Open, Justin Trudeau scored an ace by tagging Prime Minister Modi in a tweet by Dabrowski, where she thanked Bopanna for an 'unforgettable tournament'.
"How's that for partnership!" Mr Trudeau's tweet read. PM Modi's response read: "India & Canada is an ace partnership, advantageous to both nations, beneficial for the world. Game, set and match always".