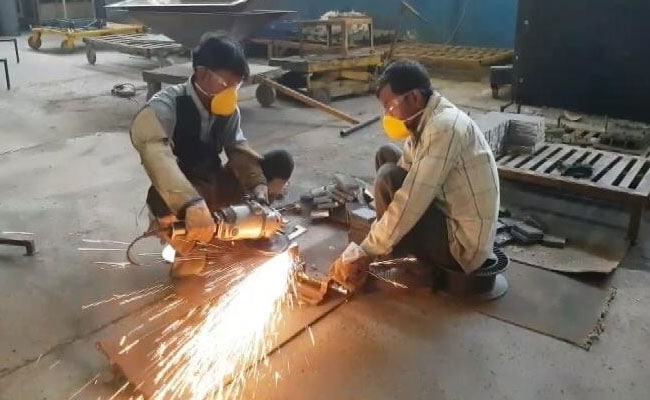 New Delhi:
With several employment reports stating conflicting data on how many jobs have been created in the country, the latest report states that India saw a seven million drop in employment between 2013 and 2015. A major hit was taken by the youth and higher educated with the unemployment rate at 16 per cent, which stood at three times the national average, according to the State of Working India (SWI) report released by Bangalore-based Azim Premji University.
The report said that over 57 per cent of the regular employees were only earning Rs 10,000 a month, much lower than the Rs 18,000 minimum stipulated salary stated by the Seventh Central Pay Commission (CPC). "As for casual workers, 59 per cent have monthly earnings of up to Rs 5,000," the report said.
The data collected by a team of 31 authors headed by Amil Basole, a professor at School of Liberal Studies at Azim Premji University, has been sourced from National Sample Survey and Labour bureau which last collected its data in 2015. Other authors include professors from Jawaharlal Nehru University and Indian Institute of Technology, government officials from NITI Aayog, independent researchers, activists and journalists.
The data collected by the team of authors contradicts Bhalla and Das report released in July that said 13 million jobs had been added to the economy while Centre for Monitoring Indian Economy (CMIE) report stated that two million jobs were lost. "This optimistic conclusion (by Bhalla and Das) depends on selective use of data and unjustified assumptions," the report stated.
Amil Bansole, the lead author of the report said that Bhalla and Das survey is inaccurate as it hasn't taken into account many aspects like demonetisation and introduction of Goods and Services Tax or GST, which would have an impact on jobs.
"Since 2015-2016, there is no government source on employment data, but there is CMIE. They have data for those years and they indicate a decline in employment. What we have said is that if you assume those rates, you will see an increase in employment but no one knows what those rates are with no government data available. Particularly with demonetisation and GST happening, we know that could have an impact," Amil Bansole said.
The report also compares the growth rate of jobs between 1970s and 2015. "In the 1970s and 1980s, when GDP growth was around 3-4 per cent, employment growth was around 2 per cent per annum. Since the 1990s, and particularly in the 2000s, GDP growth has accelerated to 7 per cent but employment growth has slowed to 1 per cent or even less," the report notes.
With lack of official data on employment, and conflicting reports on the current state of jobs in the country, Amil Bansole said that the surveys could only be assessed through the methodology used by them. For instance he spoke of the Employees' Provident Fund Organisation (EPFO) data on employment that said seven million jobs were added to the economy.
"No one actually knows the actual numbers but what we can say is what method is being used. With EPFO data on jobs, issue is that it doesn't give you the net picture in the economy. What it shows is the addition to the provident fund database. Which is a small part of the workforce. If you don't know how many jobs were lost or added in the rest of the economy, then you are not in position to say what is the overall position," he said.