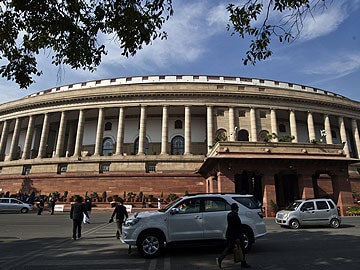 New Delhi:
The Winter Session of Parliament promises to be a stormy one, with main Opposition party the BJP making it clear at an all-party meeting on Monday that it will attack the government on a number of issues.
The tone of the session which begins today will depend on the outcome of Assembly polls in five states, though the government has listed a heavy legislative agenda and Opposition is demanding extension of the 12-day sitting.
The government plans to push bills like the Lokpal Bill and Women's Reservation Bill which have been passed by one House and now await the other House's nod.
A bill on the creation of the new Telangana state does not figure in the government's agenda for the session but assurances have been given by the Centre on expediting it. The BJP says the process should be set in motion immediately.
The government also wants to bring an amended version of the Anti-Communal Violence Bill, but it has been opposed by several states and the Opposition as an attempt to infringe on the Constitutional rights of a state. Though the government says the amended bill takes care of the main critique of state governments, that it violates the federal structure by allowing the Centre to intervene in restoring law and order in riot-hit areas without imposing President's Rule, the Opposition has accused the ruling Congress of trying to pass the bill ahead of national polls due by May, in the hope of winning Muslim votes.
The BJP wants a discussion on internal security with special focus on the serial blasts in Patna just before its leader Narendra Modi's rally in October. Leader of Opposition in Lok Sabha Sushma Swaraj said her party also wants discussions on crimes against women and the functioning of a parliamentary panel on the 2G scam.
The Left wants the communal violence in Muzaffarnagar two months ago discussed and a debate on the economy.
The Opposition has stacked up a lot of ammunition to attack the government and with exit polls predicting a 4-0 win for it in the Assembly elections, the BJP may make demands that will increase Congress's discomfort.
The government's arsenal seems restricted to countering the BJP on the Gujarat snooping scandal, targeting its prime ministerial candidate Narendra Modi.