Gurdaspur:
At a small, remote village in the Gurdaspur district of Punjab, a group of women are gathered in a house to mourn a man who has become a national hero. They sit around Madhu, the daughter of
Subedar Major Fateh Singh
, who was martyred as he fought the terrorists who opened attack on the Pathankot Air Force base early on Saturday morning.
"I am very, very proud of him," says Madhu, breaking down and then recovering her nerve to detail how her father rushed out of their house at the base to fight the terrorists, and to share what her family witnessed as the audacious attack unfolded.
"He wore his uniform and ran out of the house," she said to NDTV. Subedar Major Fateh Singh won gold and silver medals in the first Commonwealth Shooting Championships held in 1995. He was on duty at the Pathankot base as part of the Defence Security Corps, a unit staffed by veterans no longer in active service.
The 51-year-old was killed in the gunbattle with terrorists.
Inside, his 25-year-old daughter, an English teacher, says, "The firing could be heard, there were bullets at the window. We hid under the bed for two hours...the ground was cold, but we didn't want to risk sitting on the bed. When it got dark, we switched off the lights so they (the terrorists) could not see inside. The firing started again, the windows shook hard."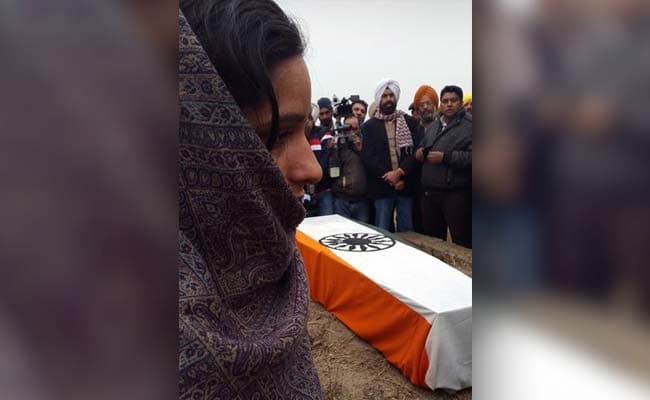 In a departure from tradition, Madhu was among those who carried her father's coffin to his funeral pyre.
"My father always said speak up, fight for the truth, help good defeat evil. He gave his life for those values," she said. In a departure from tradition, Madhu was among those who carried her father's coffin to his funeral pyre, a role usually reserved for men. Her brother is an army officer.
Seven military personnel
have been martyred and 20 injured. Five terrorists have been killed, said the National Security Guard.
The Pathankot air force base is located just 25 km from the border with Pakistan houses Indian Air Force MiG-21 fighter jets and attack helicopters. The government said the gunmen had been prevented from entering the area where "high-value assets are parked".
The attack by terrorists disguised as soldiers came a week after Prime Minister Narendra Modi made an unscheduled visit to Pakistani counterpart Nawaz Sharif in an effort to revive talks between the neighbours after months of severe tension.
Pakistan has condemned the attack.