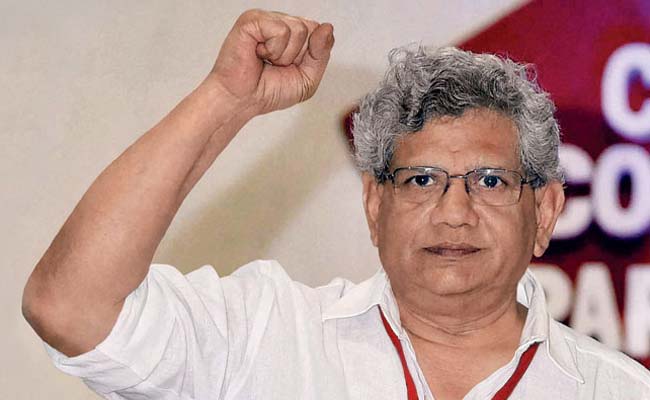 Highlights
CPM's central committee met over 3 days and voted against it: Sources
Most leaders from Bengal wanted him to be fielded for a 3rd term: Sources
CPM doesn't allow Rajya Sabha membership beyond 2 consecutive terms
New Delhi:
Senior CPM leader Sitaram Yechury will not get a third term in the Rajya Sabha, his party has decided, sources told NDTV. The CPM's central committee, the party's highest executive body, met in Delhi over three days and voted against sending Mr Yechury to the upper house with the help of the Congress.
While most leaders from Bengal wanted him to be fielded for a third term, a majority of the members felt that Mr Yechury, who is also the CPM's general secretary, should work to meet the challenges the party is facing.
The CPM does not allow anyone to be a Rajya Sabha member beyond two consecutive terms and Mr Yechury's second Rajya Sabha term from Bengal ends next month. The final decision to deny Mr Yechury a third term was taken by the CPM's Politburo of which he is a member, party sources said, adding that the decision was only endorsed by the central committee.
Those who favoured a third term for Mr Yechury argued that he is one of the most well-known and articulate faces of the party in Parliament. At a time when the Left is losing popular support even in its traditional stronghold West Bengal, Mr Yechury brings the Left to national relevance and so must continue to front for the Left in Parliament, they said.
But those opposed to a third term for the party chief pointed out that he cannot return to Parliament on his own party's strength and will need support from the Congress' 44 legislators in the Bengal assembly. Members from Kerala, led by Chief Minister Pinarayi Vijayan, said the party cannot take support from the Congress, the CPM's chief political rival in the state.
There were also some reservations within the Bengal Congress on supporting Mr Yechury, sources said.
Elections will be held for six Rajya Sabha seats from Bengal next month. After sweeping last year's assembly election, Mamata Banerjee's Trinamool Congress can win five seats with ease; members of state legislatures elect Rajya Sabha MPs to represent them in Parliament.
With 44 lawmakers, the Congress can win the sixth seat on their own but has said it may not field anyone if Mr Yechury seeks to return to the Rajya Sabha. The Left Front, delegated to a humiliating third spot in the assembly elections, has only 32 lawmakers and needs 43 to win. It can only make it with Congress support.