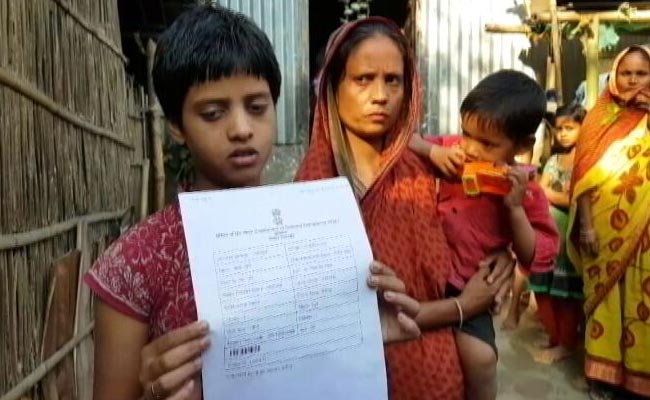 New Delhi:
The Congress today said that while it welcomes the
first draft list of the National Register of Citizens
(NRC) for Assam issued on Sunday night, its workers will ensure that the entire exercise is carried out with "complete integrity, transparency and accountability".
"The first step in this Herculean task has been possible owing to the commitment of people of the state to Assam to the Assam Peace Accord. We reiterate that Congress party remains committed to every pledge made in the accord," Congress spokesperson Randeep Singh Surjewala said.
The Registrar General of India on Sunday night issued the first draft list containing 1.9 crore names in accordance with the Supreme Court directions to publish the first draft on or before December 31, 2017.
At least 68.27 lakh families comprising 3.29 crore applicants had submitted 6.5 crore documents in support of their citizenship claims.
"This is the follow-up action of the historical 1985 Assam Peace Accord signed by the Rajiv Gandhi government with AASU and Assam Gana Sangram Parishad, which led to the end of one of the most violent movements in Assam and culminated in strengthening of democratic process. This process of identification and inclusion has been carried on since then," Mr Surjewala said.
Under the Assam Accord, the government needed to identify and deport illegal Bangladeshi immigrants and provide constitutional safeguards to indigenous communities of the state.
"Congress Party will also ensure that the entire process of verification of citizens is carried out with complete integrity, transparency and accountability," the party spokesperson said.
"We assure the people of Assam that Congress leaders and workers will leave no stone unturned to ensure that not a single claim of any citizen is left unaddressed and not a single family or a section of people suffers on account of lack of appropriate verification of their documents or claim," he said.
Mr Surjewala said the initiative to prepare the Citizen Register was taken forward after a tripartite consensus in 2005, between the then Prime Minister Manmohan Singh, then Assam Chief Minister Tarun Gogoi, and the representatives of All Assam Students Union (AASU).
"The exercise, which so begun in right earnestness, has been monitored by the Supreme Court of India since December 2013 and the first draft has consequently been published yesterday," he added.