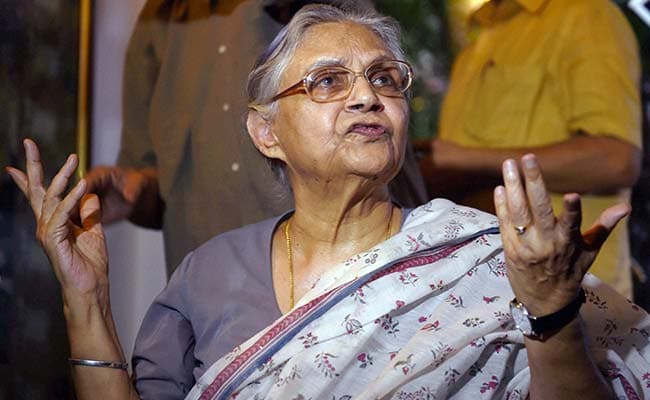 New Delhi:
Delhi Congress chief Sheila Dikshit -- one of the key leaders against the idea of an alliance with Arvind Kejriwal -- today said she had no idea that the party leadership is going to the grassroots for a second opinion. They should have asked her before taking such a step, she said.
The Congress has been under pressure to form an alliance with AAP as part of the new opposition strategy since the Pulwama terror attack and the BJP's new strategy built around nationalism. But at a meeting with Rahul Gandhi last week, the Delhi Congress leaders unanimously voted against the idea of an alliance with AAP.
A senior Congress leader said Ms Dikshit, whose three-term government was swept out by AAP's march to power, had strongly opposed the alliance.
The Congress has now asked workers for feedback on the party's Shakti app - a method it used while picking the Chief Ministers for the heartland states of Madhya Pradesh Rajasthan and Chhattisgarh after last year's assembly elections.
Mr Gandhi is expected to meet the leaders again after getting an overview of the feedback.
"I had no idea that the party has sought feedback on alliance, I got to know about this from media reports," Ms Dikshit told reporters today. "They should have asked me before going to collect feedback on this. PC Chacko should have discussed this with me," she added.
Mr Chacko was the voice of the app message that asked workers to send their opinion, promising complete confidentiality.
Reacting to Ms Dikshit's comment, former Delhi Congress chief Ajay maken said, "Shakti App has been utilized on the directions of Rahul Gandhi , Phone numbers of 52,000 workers is not with PC Chako. Questioning Rahul Gandhi's decision is wrong."
Yesterday, Arvind Kejriwal had reached out to the Congress, pointing out the advantages of an alliance in Haryana.
In a tweet, Mr Kejriwal said: "The people of the country want to vote out the Modi and Amit Shah combine. If in Haryana, AAP, JJP and the Congress fight together, then the BJP would lose the state's 10 seats. Rahul Gandhi should think this over".
AAP has accused the Congress of losing sight of the goal of beating the BJP in the coming elections. The party said for this, the anti-BJP votes should not be split - as is likely to happen when two opposition candidates contest from the same seat.
Key leaders in the opposition have also taken this view, and have asked the Congress to partner with regional parties in Delhi and Bengal. The Congress is going it alone in these two states and also in Uttar Pradesh, where it has been kept out of the alliance by Mayawati and Samajwadi Party leader Akhilesh Yadav.