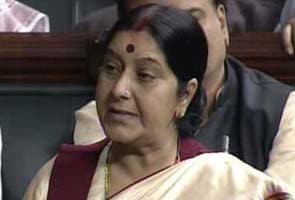 New Delhi:
When Parliament debates the amendments to the Foreign Exchange Management Act (FEMA), it will be taking up five critical changes to the law notified by the Reserve Bank of India (RBI) between May and October this year.
The FEMA amendments are the key to making FDI in multi-brand retail, which the Bharatiya Janata Party (BJP) is dead opposed to, operational. The amendments are also needed to allow 100 per cent FDI in single-brand retail and FDI in the aviation sector.
The FEMA Act says Parliament's approval is needed before the proposed changes can be made to the law. The government needs to get the amendments passed both in the Lok Sabha as well as Rajya Sabha.
Parliamentary Affairs Minister Kamal Nath recently suggested it would be sufficient to get the FEMA amendments approved in one of the two houses, inviting strong protests from the BJP. The party said it would insist on approvals from both Houses.
The BJP says it is against rushing through the FEMA notification in Parliament. "The notification has to be placed on the floor of the House for 30 days to allow members to see it, consider, think and submit modifications and disapproval amendments. It cannot be rushed through along with the main debate on FDI," BJP spokesperson Ravi Shankar Prasad said earlier today.
The UPA government may not be worried about a debate and vote on FEMA in the Lok Sabha, where it has comfortable numbers. It is in the Rajya Sabha that it would be worried of being short in numbers.
The debate on Foreign Direct Investment (FDI) in multi-brand retail in the Lok Sabha today was preceded by protests from the opposition when it became clear that the discussion would be held together with one on FEMA amendments.
The government's floor managers had ensured that the FEMA amendments and the FDI debate were listed on the Lok Sabha's agenda in a way that both could get the House's nod together. But the opposition insisted that the FDI debate be held separately.
The matter went to Lok Sabha Speaker Meira Kumar, who said the two debates could be debated together. She assured members that the voting on FEMA and FDI would be held separately.