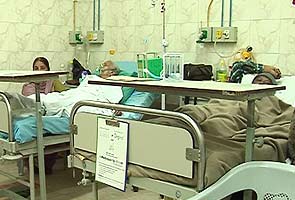 New Delhi:
Mohan Chand Pant travels from Nainital to Delhi every fortnight to get morphine pills from the All India Institute of Medical Sciences, one of the few hospitals that have a license for oral morphine. Mohan Chand cannot buy the pills in bulk, the law forbids it. But he needs a constant supply to help rid his wife of the extreme pain due pancreatic cancer, in advanced stage. Oral morphine, he says kills the pain that made her plead, "Cut off my legs, throw me in the lake or just kill me."
"Can you kill someone you love?" asks Mr Pant as he boards an overnight train to Delhi; his wife has only two morphine pills left.
One million people in India suffer from unbearable disease-related pain - many of them are terminally ill from cancer or AIDS. The pain is so severe, "You don't know what to do. You feel the nerves are splitting and you want to die," says Deepti Vij, a BPO manager whose tongue cancer has spread in a year's time to her entire body.
That does not scare Deepti, the pain does. When she begged doctors for relief, all painkillers were prescribed except oral morphine. Those she finally got from Dr Sushma Bhatnagar at the AIIMS palliative care department. "Just one tablet and you can see the instant change. It's a miracle drug" she says, snapping her fingers. "I just don't know why they didn't give it to me earlier," she says.
Morphine is considered a "gold standard" by the World Health Organization or WHO for pain relief. Across the world, countries use oral morphine for terminally ill patients to kill pain. But in India, less than 0.4 per cent have medical access to morphine. Doctors don't prescribe it, hospitals don't store it and pharmaceutical companies don't manufacture it; because, to check drug abuse, India has put in place very prohibitive laws.
The reason is that morphine, derived from opium, is potentially seen as highly addictive. India is one of the highest producers of opium in the world and 500 metric tons is exported to Western countries for medicinal use.
In India, at least five licenses are needed to export, import, store, transport and prescribe morphine. Every state has different rules. The Narcotic Drugs and Substance Abuse Act, enacted in 1985 to curb drug trafficking, mentions misuse of morphine, but fails to list its medicinal uses. In fact, records show that immediately after the law was enacted, medicinal use of morphine dropped by 97 percent in the country.
"It's a draconian Act. The slightest variation from the norm can land you behind bars for a non-bailable offense" says Dr Nagesh Simha, president of Indian Association of Palliative Care, who also runs Karunasharya, a home for the terminally-ill in Bangalore.
Doctors who do prescribe morphine tablets, do so for only two weeks at a time. "Sometimes for a month if we know how long the patient can possibly survive. If the patient dies the family has to return the pills. Every tablet has to be accounted for. We have a separate accounts register for it," says Dr Sushma Bhatnagar. That is why Mr Pant has to travel twice a month to collect morphine pills for his wife.
While the fear of addiction is real, Dr Bhatnagar clears misconceptions. "There are enough studies to prove that use of medicinal morphine is safe. It can't cause addiction when it's used medically" she explains, adding, "Morphine attacks the pain". A message she takes to her lectures on the subject at medical colleges.
Harmala Gupta, a cancer survivor who runs CanSupport, a home care centre for the terminally ill, says it took her organisation five years to get a license for oral morphine. "When there is medicine available to kill pain it should be given," she says. "It's the only way you can let someone have a dignified exit. It's also for the families. Imagine seeing your loved one go through so much pain," she says.
Experts say that with a Narcotic Drugs and Substance Abuse Act amendment bill pending in Parliament, the Health Ministry has an opportunity to correct things. However, it might not be as easy as just doing it. The Act comes under Department of Revenue of the Finance Ministry. So the Health Ministry will have to get anything done through the Finance Ministry.
"The healthcare ministry has an opportunity at hand. It needs to wake up to it" says Dr Simha adding, "It should ask the Revenue department what it's doing. The Standing Committee has asked the government to come out with a comprehensive bill," he says.
Stake holders want easier laws that incorporate the space for the medicinal use of morphine. "We want the medicinal value to be recognized. The central government should acknowledge that India is a signatory to international treaties on this and will abide by them," says Harmala Gupta. Human Rights Watch, an international NGO, has also written to the Prime Minister the central government needs to regulate narcotic drugs.