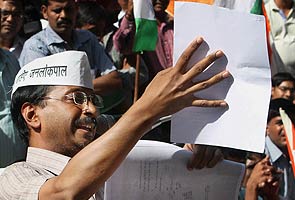 New Delhi:
When Arvind Kejriwal formed his political party earlier this month, he had promised to "expose corrupt leaders." So far, he has focused mainly on Robert Vadra, the son-in-law of Congress president Sonia Gandhi, and union Law Minister Salman Khurshid. His next disclosure, which he is expected to announce today, is likely to focus on BJP president Nitin Gadkari. But he also mocked the party, telling it not to worry much, because politicians always get away scot-free.
When the activist-turned-politician made accusations against Mr Vadra and Congress' Salman Khurshid, the BJP seized the opportunity to corner the government and demanded a fair probe. However, a day before Mr Kejriwal's "expose" on Mr Gadkari, senior party leader Arun Jaitley seemed to have a word of caution for him. When asked if he was worried about Mr Kejriwal's disclosures, Mr Jaitley suggested that activists must ensure that sanctity of truth is not sacrificed for populism.
"Well I think those who indulge in exposes must always be extra careful about every word they say. Populism should not push them. This whole desire of being before the flood light should not bring in a situation where they say more than what actually appears. The sanctity of truth must also be maintained," he said.
Mr Kejriwal reacted saying that not just the BJP, no politician in the country should worry, because "they always go scot-free". "I don't know why the BJP is so worried. No politician in this country needs to worry. No action will ever be taken against anyone," he said late in the evening.
Mr Jaitley further added that "Individual reputations must be balanced with the need of probity and therefore unless you are very sure of what you are saying, I don't think you must cross the line. Therefore words must be measured, allegations must be measured. I think people in the civil society and in those organisations which have raised this campaign may be doing it out of the best motivation but they have to be very careful about what they say because their own credibility is also at stake. If you falter once, people will not believe you the next time."
On Monday, Mr Kejriwal suggested that the BJP is not vociferously joining him in attacking Mr Khurshid over allegations that his NGO in Uttar Pradesh siphoned Rs. 71 lakh meant to help differently-abled people in the state as it is "afraid" of disclosures against party president Nitin Gadkari.
"The BJP is silent because it is scared that very soon even Nitin Gadkari is also going to be exposed. They are thinking if they will keep silent, the Congress will also not attack them and remain quiet. Both parties are trying to save themselves," he added.
Mr Kejriwal has said that both the Congress and BJP are entrenched in corruption, and that is why he wants to provide a political alternative to voters.
He is likely to hold a press conference today along with his associate and Right to Information activist Anjali Damania. Ms Damania shot into headlines last month for helping expose a scam worth Rs. 70,000 crore in Maharashtra, centred on the construction of dams and canals. Ms Damania said that at a meeting at his home in August, Mr Gadkari had suggested that she drop her attempts to go to court with the documents she had collected through the Right to Information Act. She claimed that the BJP president told her that he has business links with Sharad Pawar, the leader of the NCP, which co-governs Maharashtra with the Congress.
Mr Gadkari has sued Ms Damania for defamation and has denied meeting her.