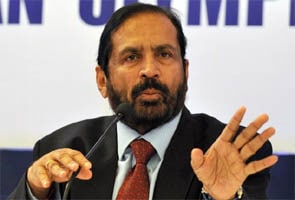 New Delhi:
Suresh Kalmadi has for long been synonymous with sports in India, as an administrator, not a sportsman. Known to be one of Pune's richest men, Kalmadi has been a controversy's child.
Kalmadi has worn many more hats and was even a minister in the Narasimha Rao government in 1995-96. He presented the Railway Budget then as union minister of state for railways, the only junior minister to have done so, his website claims.
Kalmadi, a Pune boy, joined the National Defence Academy (NDA) in the early 1960s and then the Indian Air Force as a pilot. He served in the force for six years and then was an instructor at NDA for two more years till 1974. He served through two wars - the 1965 and the 1971 wars against Pakistan.
Suresh Kalmadi opted for premature retirement and his big break came when he was spotted by Sanjay Gandhi in Pune, where he ran a fast food outlet. He joined the Congress - the Pune boy had made it big.
Kalmadi headed the Maharashtra youth Congress for a while and then became a Rajya Saba MP in 1982. He has been a member of Parliament - in the Lok Sabha or the Rajya Sabha - ever since. He is the sitting Lok Sabha MP from Pune.
In 1996, Kalmadi became the President of the Indian Olympic Association and established a virtual stranglehold being re-elected unopposed for two subsequent four-year terms.
He gathered more positions as a sports administrator - President, Asian Athletics Association and Life President Athletics Federation of India and Chairman of the Commonwealth Games organising committee among them. His website says he has organised Pune marathons for the last 23 years.
In recent times, bringing the Formula One Grand Prix to India was Kalmadi's pet project and one that shrouded him in some controversy.
There have been other controversies amid accusations of high-handedness and arrogance as Kalmadi's fortunes continued to soar.
As the Commonwealth Games scandal came to light, Kalmadi appeared vulnerable for the first time in many years. Skeleton after skeleton seemed to tumble out and investigations began into allegations of big financial irregularities. The Congress distanced itself and today, Pune's big man is being raided by the CBI.