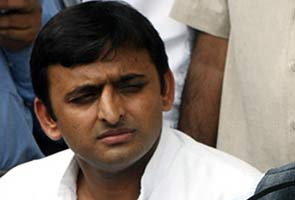 New Delhi:
People see him positioned as the Samajwadi Party's answer to Rahul Gandhi. Political scion vs political scion in Uttar Pradesh.
But Akhilesh Yadav has been in electoral politics longer than Rahul, though is three years younger. Yadav is the son and political heir of Uttar Pradesh strongman Mulayam Singh Yadav, chief of the Samajwadi Party.
Right now, Akhilesh's attention is focused on snatching back Uttar Pradesh for his father from the latter's bete noir Mayawati. It is a battle that has waged for years. And 38-year-old Akhilesh has been handed charge of ensuring that his party comes up trumps in the state elections next year.
He is an MP and has been for the last 11 years. Newly-married and having just finished his Masters, Akhilesh fought his first Lok Sabha election in 2000, contesting a bye-election in Kannauj, a seat his father had vacated. Before that election and after too, Akhilesh could be spotted campaigning for his party with party youth, riding a bicycle, the Samajwadi Party's election symbol.
For those that have only seen him leading loud, and often rough, Samajwadi Party protests in Parliament and outside, Akhilesh is a bit of a culture shock personally. Get him talking and he would like to talk socialism or environment. Akhilesh also has a Masters degree in environmental engineering from the University of Sydney in Australia. He got that after schooling at the Sainik School in Dhaulpur, Rajasthan and getting a Bachelor of Engineering degree in civil environment engineering from Mysore University.
Akhilesh is married to Dimple, who lost the Firozabad bye-election to the Congress' Raj Babbar in 2009. Losing that seat in a contest that actually became a Rahul vs Akhilesh battle was a bit of bad luck, but the young Samajwadi has been known to declare that he really got lucky when he got married.