Highlights
PM hosts breakfast for Uttar Pradesh MPs from his party
Don't ask for postings, transfers for friends and family, says Amit Shah
Let Yogi Adityanth focus on development, say PM and Amit Shah
New Delhi:
Over breakfast at his home this morning
, Prime Minister Narendra Modi tabled a few health warnings for his party's MPs from Uttar Pradesh: that they should not seek favours from newly-installed
Chief Minister Yogi Adityanath
and that while the BJP's record win in the state is an impressive feat, there's no time to sit back and relax.
After the what not to do, PM Modi also delivered a to-do list at the meeting which was attended by nearly all the BJP's 71 members of parliament from Uttar Pradesh The parliamentarians are to get busy planning the BJP's agenda for the general election that is now just two years away. For this, the PM sought suggestions for pro-poor policies, a large component of the recent UP victory. While some MPs stressed the need to upgrade the primary health care system, others proposed improvement in rail services in rural areas.
Mr Modi also asked MPs to coordinate closely with the newly-elected state legislators to ensure important reforms and schemes are implemented efficiently and quickly in their constituencies which he said would help fend off anti-incumbency.
It was
BJP chief Amit Shah
who spelled out that
Yogi Adityanath
, the 44-year-old Chief Minister, must not be urged for favours including but not limited to suggestions for appointments of government officers. The Yogi needs to be allowed space to implement a pro-development governance, he said, and the government must not be flooded with requests for the transfers and postings of relatives or acquaintances.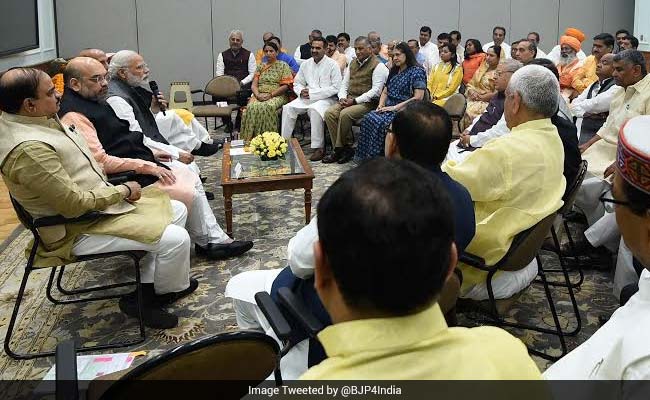 Mr Shah also stressed that MPs must not provide any kind of patronage or backing to individuals or groups with a tainted past or those who have targeted specific sections of society, an important message at a time when the BJP is being accused of flaunting a Hindutva agenda by choosing the Yogi, a saffron-robed monk, to lead India's most-populous state after a polarizing campaign in the communally-sensitive state. Mr Shah was explicit: "
Na apna, na paraya. Kanoon ka raj chalega
." ( Do not think of it as who voted for us or against us; only the rule of law will prevail).
After the meeting, Vinay Katiyar, a member of the Rajya Sabha, said, "There is going to be no let up. At any time, some part of the country is heading towards elections. And that's why the party has to remain in constant election mode."
In a show of respect and solidarity, the party's most senior leader from Uttar Pradesh, Rajnath Singh, was seated on stage with the PM and Mr Shah.
It wasn't all blunt talk, however. Attendees said that the PM seemed jubilant about his party's big
Uttar Pradesh win
.
That reflected in the spread too -in addition to standard Gujarati fare, the menu included typical UP delicacies like stuffed
parathas, poori-vegetables, pakoras and jalebis
.